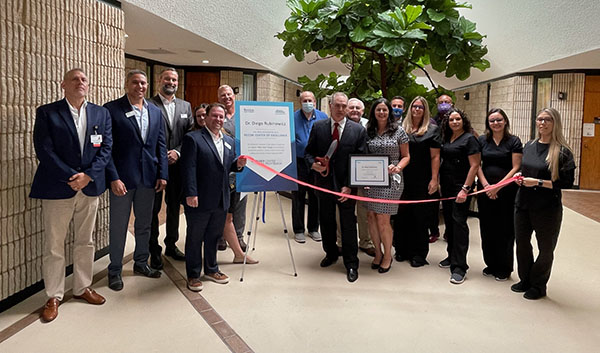 The Urology Center of Palm Beach recently announced that board-certified urologist Dr. Diego Rubinowicz's practice has been designated by Boston Scientific as a Center of Excellence for Rezūm Water Vapor Therapy, a minimally invasive in-office procedure for men suffering from benign prostatic hyperplasia (BPH) or an enlarged prostate. Rubinowicz is the first urologist to receive this designation in Palm Beach County.
The office, located on the campus of Palms West Hospital, celebrated the honor with a ribbon-cutting ceremony on Tuesday, Sept. 21, when Rubinowicz welcomed guests from Boston Scientific, members of the local medical community, representatives from local hospitals, members of the Wellington Rotary Club and other local businesses.
Rezūm Therapy uses natural water vapor to reduce the size of the prostate and provide lasting symptom relief from BPH without invasive surgery or some of the potential side effects of prescription drugs. The Center of Excellence designation recognizes Rubinowicz's high degree of experience with Rezūm Water Vapor Therapy and commitment to delivering significant, lasting symptom relief.
BPH is a condition in which a man's prostate enlarges and squeezes the urethra, causing frustrating symptoms such as frequent or urgent urination, a weak or interrupted urine stream, and the need to get up several times a night to urinate. It affects an estimated 14 million men in the U.S., or about 50 percent of men by age 60, and up to 90 percent of men by age 85, according to the Urology Care Foundation.
To date, Rubinowicz has helped more than 100 patients using Rezūm Therapy. "So many men are suffering and told that their options are medication, surgery or implants," he said. "When in one single day, in just in a few minutes, they can have this in-office procedure and experience significant symptom relief in just a few weeks. Being designated as a Rezūm Center of Excellence is a meaningful recognition for us, as we strive to provide the best possible treatment of urological conditions for our patients."
During Rezūm Therapy, natural water vapor is released throughout the targeted prostate tissue. When the steam contacts the tissue and turns back to water, it releases energy, killing the excess prostate cells that squeeze the urethra. Over time, the body's natural healing response removes the dead cells and shrinks the prostate. With the extra tissue removed, the urethra opens, relieving BPH symptoms while preserving erectile and urinary function. The procedure does not require general anesthesia and is performed under oral sedation or local anesthesia. As an in-office procedure, not requiring hospital stays, Rezūm Therapy is also cost-effective.
Rezūm Therapy has undergone extensive clinical trials to evaluate the safety and efficacy of the treatment. It is now included in the American Urological Associations' BPH treatment guidelines. To date, more than 55,000 patients around the world have been successfully treated with the therapy.
Up until now, prescription medications and surgeries have been recommended as the primary treatments for BPH, but Rubinowicz would like to help change that. "Rezum is still unknown by many," he said, "and most men don't discuss things like this, so it's up to doctors like me to get the word out there that this type of procedure exists."
Learn more about the Urology Center of Palm Beach at www.urologycenterofpalmbeach.com.