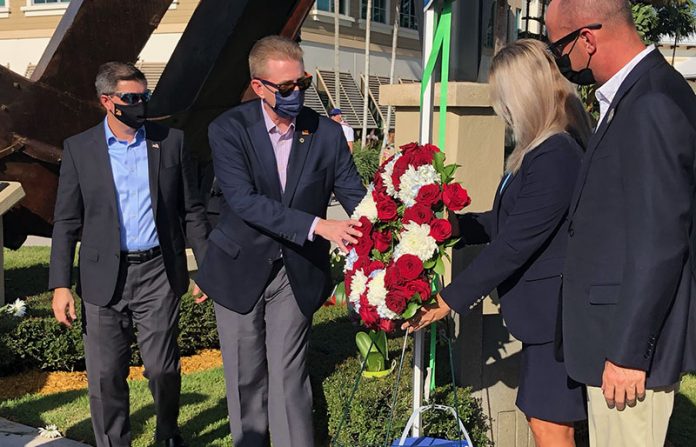 STORY AND PHOTOS BY ERIN DAVISSON
On Saturday, Sept. 11, a memorial service was held at the Wellington Patriot Memorial to mark the 20th anniversary of the 9/11 terror attacks. Wellington officials were joined by representatives of Palm Beach County Fire-Rescue and the Palm Beach County Sheriff's Office. Also on hand were guests from the NYPD and FDNY.
After Sonia Heisler sang the national anthem, guests were welcomed by Vice Mayor John McGovern. Pastor Cory Britt then led the gathering in a prayer of remembrance. Remarks were also made by Councilwoman Tanya Siskind, Councilman Michael Drahos and Councilman Michael Napoleone.
The special guest speaker was retired NYPD Sgt. Stanley Kleinman from the 112th Precinct, who discussed his experiences on 9/11.
After a moment of silence, council members placed a wreath at the Patriot Memorial, which includes a fragment of the World Trade Center buildings.