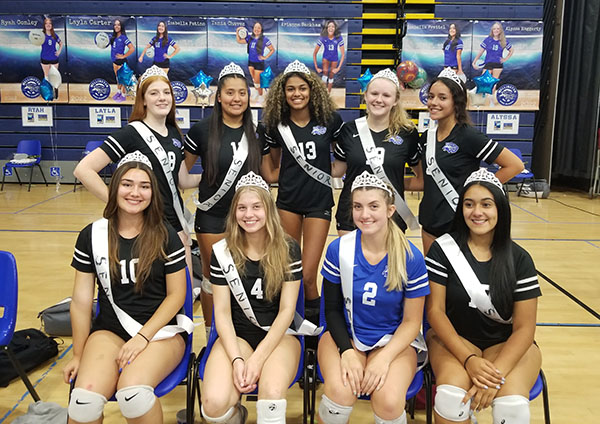 After registering a winning 12-9 record in the regular season, Wellington High School's girls volleyball team, coached by Duane Carroll, is now ready to make a deep run in the Florida High School Athletic Association's Class 7A post-season.
The Wolverines' pursuit of post-season success started on Tuesday, Oct. 19 when they defeated Royal Palm Beach High School in the Class 7A, District 10 semifinal in straight sets, 25-19, 25-12, 25-20. Wellington then played Palm Beach Gardens High School on Thursday, Oct. 21 in the district final. Results from that match were not available at press time.
With a victory against Palm Beach Gardens, Wellington will automatically advance into the Class 7A regionals, which start on Wednesday, Oct. 27. With a loss, the chances are good that Wellington will earn an at-large bid into the Class 7A regionals, based on its strong statewide ranking. Wellington's win-loss record is not an accurate reflection of the team's depth and talent. The Wolverines lost a few close games to some very strong opponents this season.
Wellington's success this past season can be attributed to contributions from the entire team, but this is the final year for Wellington's nine seniors to chase a state championship, possibly going one game further than Wellington's 2011 team, which was state runner-up in girls volleyball.
According to Carroll, each of his nine seniors had a unique role to fill on this deep and talented team, which is pursuing a spot in the Class 7A state volleyball final on Thursday, Nov. 18 at the Suncoast Credit Union Arena in Fort Myers.
Arianna Beckham was one of the team's on-the-court leaders until she suffered a season-ending ankle break mid-season.
"She was the team leader who all the players looked up to," Carroll said. "Even after her injury, she has been a vocal leader from the bench."
Beckham, Wellington's leading outside hitter, will attend Florida Atlantic University next fall on a volleyball scholarship.
Layla Carter is one of Wellington's strong, quiet leaders. "Layla leads by example, on the court during games and in the gym during practice," Carroll said.
According to Carroll, Carter is best described as steadfast. An outside hitter, she is a three-year starter for Wellington.
Carroll describes middle blocker Tania Chavez as resilient. Chavez is a two-year starter who is even keeled, brings light humor to the team, and puts things in perspective for her teammates. "Tania is not easily rattled by whatever takes place on the court," Carroll said.
Enthusiastic is the best way to describe starter right-side hitter Ryah Conley, according to Carroll. "Ryah is our cheerleader on the court," he noted. "She brings energy to practices and games."
Alyssa Haggerty, also a starter, is an intense competitor. "Alyssa lets her work on the court do all the talking," Carroll said.
Kaylee King is a transfer from Palm Beach Central High School. She is Wellington's starting libero. She has been an integral part of the team's success this year.
"Kaylee is scrappy and is not afraid to hit the floor while diving for the ball," Carroll said.
According to Carroll, Isabella Patino is best described as dependable. "Isabella plays right side, and I can always rely on her when I call her number," Carroll said. "She is a great sub off the bench."
Isabella Prettel and Amber Swift had similar roles on the team.
"I would insert both Isabella and Amber into the game to help with passing and defense," Carroll said. "Both are defensive specialists who are solid players. Both of them play a key role for us."
The loss of Beckham to injury took away the team's leading outside hitter. With Beckham no longer on the court, the responsibility of getting kills has fallen into the hands of seniors Chavez, Conley and Haggerty, as well as junior Rilee Rimes, and sophomore Ava Rodgers.
"The opposition used to focus just on stopping Arianna," Carroll said. "Now, we have five players — Tania, Ryah, Alyssa, Rilee and Ava — who are our primary outside hitters."
For Wellington to make a deep run into the post-season, Carroll said his team must focus on three fundamental elements.
"We must minimize all mental and physical mistakes during the games, eliminate bad passes and execute all kills when they present themselves," Carroll said. "If the passing is good, we get a good set. Our serving is solid. Mentally, we must keep our heads up at all times. And, when a mistake takes place, we must not dwell on it. Our immediate focus needs to be on the next point."
With the leadership and maturity of nine seniors, Wellington High School's girls volleyball team has definitely grown as a team during the recently completed regular season. Now, Wellington's post-season journey is underway. Hopefully, it ends in Fort Myers next month. Only time will tell.