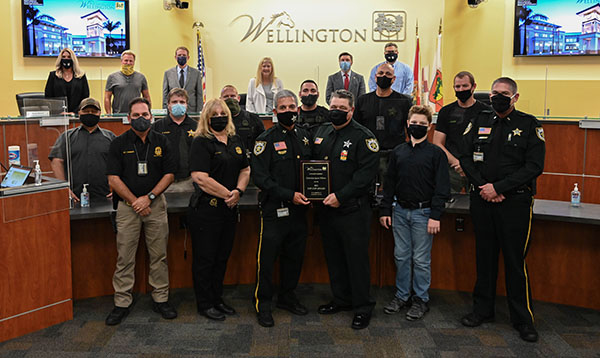 The Wellington Village Council presented its 2021 Top Cop and Top Firefighter awards on Tuesday, Oct. 26 to Palm Beach County Sheriff's Office Detective Jason Villiers and Palm Beach County Fire-Rescue Lt. Jen Kleier.
Presenting the awards were PBSO Capt. Rolando Silva of the District 8 substation in Wellington and PBFR District Chief Philip Olavarria.
Silva said Villiers was assigned to District 8 as a canine deputy several years ago.
"Eventually, his tour in the canine unit came to an end here in Wellington," Silva said. "They brought him back to the canine division in the greater Palm Beach County Sheriff's Office, and he decided he wanted to leave the canine unit and come back here and work for us as a street team member.
Silva had a great deal of praise for the work of Wellington's street team, most of whom attended the meeting.
"They are very, very good at what they do, and it is the reason why in Wellington we're not necessarily no crime, but we're very low crime," he said. "There is a reason for that, and Detective Villiers is a big part of that equation."
Villiers has been with the PBSO for more than 23 years, working as a detective for the past seven months, as a canine officer since 2001 and as a field training officer for more than 14 years.
"Detective Villiers aggressively supports the community by passionately investigating cases and has proven himself to be highly capable of handling complex, multi-jurisdictional investigations," Silva said. "His work ethic, drive, dedication and professionalism make him an invaluable asset to the team and to our agency."
He added that Villiers uses his experience to lead, mentor and train younger detectives, deputies and agents with great success, bettering the organization as a whole.
"He has investigated more than 35 complex cases and has successfully obtained and executed a total of nine search warrants as a detective in the last seven months," Silva said. "Many of the cases required assistance from the SWAT team and other specialty units within the PBSO. He has also completed a total of 16 felony arrests with multiple charges on each one during that time."
Villiers was instrumental in investigating a transnational crime organization that was highly mobile for years, moving from state to state looking for opportunities to commit robberies, credit card fraud, jewelry heists, home invasions and more — until it came to Wellington.
"Detective Villiers, in conjunction with other municipalities, county, state and federal agencies, identified the suspects, apprehended them and obtained confessions and recovered stolen property from all over the United States," Silva said. "I think tenacious is the most accurate word that describes him. He just stays after it, and this is why he is so effective and so successful."
Villiers, a Wellington resident, was quick to share the honor with his colleagues.
"This is not just about me," he said. "This is about the 11 individuals back here in the detective bureau on the street team… We put a lot of effort and a lot of pride in our work. I appreciate everything, but this is more about a team effort than it is me, so they are the ones who make everything happen."
PBCFR's Olavarria said Kleier was nominated by Battalion Chief Ernest Muller, District Chief Anthony Tozzi and District Chief William Rowley.
"Lt. Kleier is recognized for her exceptional work as a lieutenant for Palm Beach County Fire-Rescue who works in the Village of Wellington," Olavarria said. "She has shown her dedication to the residents both while on and off the job. She is a model employee who enjoys her job and loves to share her knowledge and training with her fellow firefighters."
Kleier has worked as PBCFR's Muscular Dystrophy Association coordinator since she was hired seven years ago.
"She has really dedicated a lot of her time to collection for MDA," Olavarria said. "She is also a part of the nonprofit Firefighters on a Mission, and she spends a lot of her time traveling to raise money for those causes as well. I've worked with her over the years in different roles, so it's nice to see her honored by other chiefs."
Kleier said she appreciated the honor, but also noted she is part of a team that led to her success. "I'm very fortunate to work for Palm Beach County Fire-Rescue, and that community and the family atmosphere really speaks volumes," she said. "Where I work, and I was a resident here in Wellington for many years, I love coming to work, and there are not many people who can say that. The people I work with and the community around us, just seals the deal."