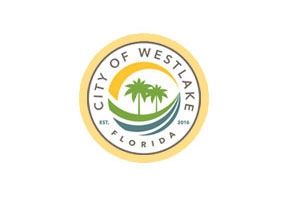 The City of Westlake is glowing pink in recognition of National Breast Cancer Awareness Month. The community's welcome signage along Seminole Pratt Whitney Road and lights at the sales center showcased pink lighting to promote breast cancer awareness beginning Oct. 12.
This is the first time the City of Westlake has recognized a national campaign. On Monday, Oct. 11, a proclamation was read and entered into the city's record during the monthly council meeting.
"Westlake wants to send a message of solidarity as well as hope to all those who have been impacted by breast cancer. 'Westlake Goes Pink' is our way to help raise breast cancer awareness in not only Westlake but Palm Beach County," Mayor Roger Manning said.
The "Westlake Goes Pink" campaign will last all of October. "Westlake is committed to helping raise awareness about important causes in the community," City Manager Ken Cassel said. "This is the first of many more to be recognized."
Councilwoman Katrina Long Robinson said that she felt it necessary to have the community recognize this national campaign in an effort to raise awareness of a disease that affects many women and families.
National Breast Cancer Awareness Month was established to increase awareness of the disease, which is one of the leading cancers in women. Through charitable events held all month, various organizations raise funds for research into its cause, prevention, diagnosis, treatment and cure. Women are also encouraged in October to schedule their yearly mammograms for early detection of breast cancer.