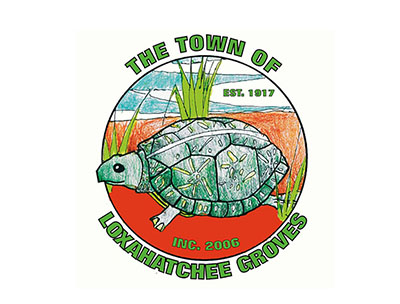 The two incumbents running for Loxahatchee Groves Town Council — Vice Mayor Laura Danowski and Mayor Robert Shorr — both drew challengers as of the close of filing on Nov. 16 for the Tuesday, March 8 election.
Seat 2 incumbent Danowski will face former Councilman Todd McLendon, and Seat 4 incumbent Shorr will be up against longtime resident Paul Coleman.
Danowski was elected in 2019, defeating McLendon in his bid for a second term. She credits the accomplishments of the past three years to the council and staff working as a team, rather than herself.
"It's a team effort, and right now the continuity of the five currently seated council is, just in 2020-21, we've achieved almost $2 million in road surfacing and drainage project repair," she said, pointing out that on Tuesday, Nov. 16, the council put into place a three-year plan and funding for continued road surfacing and maintenance. "The important part of the last three years is the momentum of what we have achieved for the residents."
Achievements she pointed out include term limits for council members, five-day town hall access for residents, installing an in-house building official and code enforcement personnel, and the purchase of new equipment for the public works department.
The town returned to a five-day workweek after Town Manager Jamie Titcomb was installed, replacing Underwood Management Services Group, Danowski said, adding that the town has also held numerous community events, cleanups, parades and fundraisers.
"We have moved the town forward," she said. "The seated council members and the management, we all work well together, and working well together doesn't mean we all agree. Actually, disagreement leads to better solutions; something that benefits the whole, not just an individual."
If re-elected, Danowski wants to keep up the momentum on road surfacing and repair.
"We absolutely need to get some sort of control and a maintenance plan for the vegetation that's obstructed the roadways," she said. "We need to give some attention to our building department, and especially our code enforcement system to protect our rural lifestyle."
McLendon served on the council in Seat 2 from 2016 to 2019, when he was defeated by Danowski. Also elected at the time were Shorr and former Councilwoman Lisa El-Ramey.
"She has proven previously that she is a follower, not a leader," McLendon said of Danowski. "We need good leadership in those positions, and she lacks that. That's one of my specific issues about her, but in addition to that, since the three were elected three years ago, there has been a serious lack of transparency, where they voted well over a million dollars in expenditures that have never been on the agendas. That's not open government, that's not transparency, that's not doing the right and legal thing."
He added that the council seems to have a hard time keeping employees in public works.
"That's a pretty important department," McLendon said. "They purchased a tremendous amount of equipment, but there's no employees to run the equipment. Meanwhile, we've got a public relations department. Why do we have a public relations department when we can't keep employees in house to do day-to-day jobs? I'm very concerned about that."
He is also not happy with the day-to-day maintenance of the town. "That seems to be lacking drastically," he said. "Simple maintenance isn't happening. I think the majority of the people can see that."
McLendon is self-employed and has an exotic bird farm that he maintains, as well as a computer-related business.
Coleman, 47, is a public building inspector for Palm Beach County. He has been in construction and retail management all his life. Married to wife Kristi for 23 years, they have a 15-year-old daughter, Keelin. He has lived in the same house in Loxahatchee Groves since he was two years old. "I moved here in 1976," he said. "I've lived in the same house for 45 years."
He is running because he feels he needs to make the time to pursue something he feels strongly about.
"I've been wanting to run for years," Coleman said. "The old adage, you keep trying to find time, and you think you're going to find time, you realize you've got to make time. If there are things you're passionate about, you've got to make the time."
He is concerned about the development of Loxahatchee Groves and the direction it is going. "I think I can be beneficial in helping to get that to move in a direction that's good for all the residents," Coleman said. "For years I've been approached to run for office, but I didn't think it was the right time. This feels like the right time to me."
Coleman's father, Tim, who passed away several years ago, served on the Loxahatchee Groves Water Control District Board of Supervisors, which is now the town's public works department.
"I've always been passionate about this town before it was a town," he said. "My family has always had an interest in making sure that we maintained the lifestyle that we have out here."
He feels that previous boards, as well as the old water control district board, applied a Band-Aid approach to problem solving. "We need to try to get to a point where we're addressing things more proactively infrastructure-wise, development-wise," Coleman said. "I think that I can help get it that way."
He added that development to the north and west needs to be addressed. "There's a lot of influx of population, and things are definitely going to change, and I'd like to be a part of ensuring those changes don't totally change the face of Loxahatchee Groves," Coleman said.
Shorr said that he ran in 2019 to get the community more involved in the town.
"Since I've been on the council, we had a Fourth of July parade, two Veterans Day parades and veteran ceremonies," he said. "We've had several town cleanups, a council chili cookoff, coffee with the mayor, coffee with the sheriff and holiday food baskets."
Shorr also started an annual trail ride two years ago to raise money for the town's scholarship fund with 49 riders last year.
He has enjoyed his time on the council because he feels that the town has gotten a lot done. Over the last three years, the town has built up the road base for 20 miles of dirt road, over nine miles of paving, with several more miles to be paved by the end of the year, Shorr said, explaining that he was once opposed to paving and favored proper drainage instead.
"I realized once we started draining, the cost to maintain [dirt roads] is enormous," he said, explaining that the town's current cost of $200,000 a mile is much cheaper than maintaining a dirt road over the life of a paved road.
Shorr noted that the millage rate of 3.0 has remained the same, the assessment has remained at $200 an acre and waste disposal at $450 per residence. The town has also increased its reserves to $950,000 over the past three years, he said.
"We have zero debt, we retired the OGEM debt and paved the OGEM segments," Shorr said, adding that the town upgraded to a new energy-efficient canal pump on F Road, the only pump that supplies water to the town during the dry season. "We replaced a major culvert on C Road and Collecting Canal that they've been talking about replacing for years. Everything people have been talking about for many years but never had anybody step up and get it done… we were able to get it done."
He pointed out that in public works, the town has obtained the equipment and staff to do the job. "We've got two new tractors and a new truck and the number of employees that they need to maintain the town," Shorr said. "We've approved the number of employees needed, and we're getting in the equipment they need."