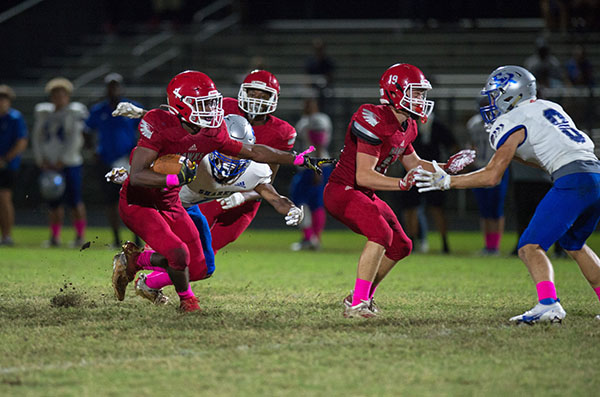 The Palm Beach Central High School varsity football team remains undefeated on the season, as the Broncos continue their pursuit of a state championship.
On Friday, Nov. 12, the Broncos hosted Centennial High School in the first round of the Class 8A Florida High School Athletic Association playoffs. The Broncos prevailed 41-9 and moved to 9-0 on the season.
On Friday, Nov. 19, the Broncos host the Indians from Vero Beach High School in a second-round playoff game. Going into the game, the Broncos were ranked as the fifth-best Class 8A team in Florida, while the Indians (7-2) are ranked 13th. The kickoff for that game is at 6:30 p.m.
Wellington Season Ends in State Playoffs — Wellington High School concluded its regular season on Friday, Nov. 5 when they hosted local rival Seminole Ridge High School. After defeating the Hawks 21-14, the Wolverines advanced into the Class 8A FHSAA state playoffs. The Wolverines traveled to Boone High School in Orlando on Friday, Nov. 12, falling 42-7 and concluding the season. The Wolverines, under the guidance of first year head coach Daniel Mendoza, finished with a 7-4 record.
Seminole Ridge Stumbles in Playoffs — The Seminole Ridge High School Hawks concluded their regular season with an impressive 8-2 record. Their only two losses were to Martin County and Wellington high schools. Based on this impressive record, the Hawks earned a spot in the FHSAA's Class 7A playoffs. On Friday, Nov. 12, the Hawks played at Melbourne High School, falling to the Bulldogs 41-7. Seminole Ridge finished the season with an overall record of 8-3.
Wildcats Finish with a Win — The Royal Palm Beach High School Wildcats concluded their regular season on Friday, Nov. 5 when they hosted the Lancers from John I. Leonard High School in Greenacres. The Wildcats defeated the Lancers 17-14. With that victory, Royal Palm Beach finally got its illusive first won on the season, finishing with a 1-8 record.
TKA Wraps Season with a Winning Record — The final game of the regular season for the King's Academy was Friday, Nov. 5 when the Lions traveled to Palm Beach Gardens to play the Benjamin School. The Buccaneers won 52-6. That loss concluded the season for the Lions. TKA ended with a 6-4 record.