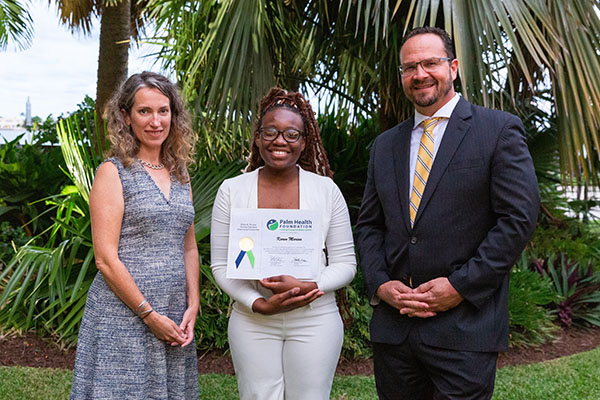 On Tuesday, Nov. 2, Palm Health Foundation donors came together to honor the foundation's 2021 nursing and behavioral health professions scholarship recipients at Ann Norton Sculpture Gardens in West Palm Beach.
The event was an opportunity for scholarship recipients to be recognized for their commitment to their professions and to meet the donors supporting their education and career advancement. The 2021 scholarship program invested $424,188 in 62 students pursuing undergraduate, graduate and doctorate programs at South Florida universities. Frances Fisher, who created the Frances Fisher Scholarship Fund at the Palm Health Foundation, where she serves as a board member and philanthropy committee chair, underwrote the scholarship reception.
Fisher opened the program by welcoming the 113 guests to the gardens and recognizing the care and compassion the scholars will bring to their patients throughout their careers. Denise Bober, the Palm Health Foundation's board chair, told her family's poignant personal story about establishing the Sutton Kailey Nursing Advancement Fund. Named for her granddaughters, born at just 24 weeks, the fund "honors our precious miracle Sutton and memorializes her angel sister Kailey," Bober said. "Our little Kailey shined her presence on this earth for a mere 24 hours when God called her to come to heaven. Baby Sutton remained brave and strong, survived heart surgery and spent 111 days in the neonatal intensive care unit before we were able to take her home. To this day, we are overwhelmed with gratitude and want to ensure that other families have the same nurturing, quality care when they need it most."
Bober went on to recognize the 2021 scholars and their donors, including Frances Fisher, Pam Gladstone and Elizabeth Rosenthal representing the B.J. & Paula Harris Fund Scholars, and Jill Merrell and the 2021 John T. Merrell Scholarship Fund. Scholars also received awards from several other funds, including the Andrew P. Barowsky Scholarship Fund, the Debra Coffman Howe Nursing Scholarship Fund, the Charles Norton Adams Nursing Endowment Fund, the Helen K. Persson Nursing Education Scholarship Fund, the Joseph Dolce Surgical Nursing Scholarship Fund, the Peter and Elinka Ordway Nursing Scholarship Fund and the Palm Health Foundation Nursing Advancement Fund.
Recognizing the enormous challenge the scholars have faced during the COVID-19 pandemic, Palm Health Foundation President & CEO Patrick McNamara saluted the students. "You are here because you've demonstrated dedication, perseverance and a true desire to serve your neighbors through this pandemic and beyond," he said.
The Palm Health Foundation has granted more than $3.5 million in nursing scholarships to over 1,000 nursing students for advanced education since its founding in 2001 and recently expanded its scholarships to include the behavioral health field. For more information, visit www.scholarship.org.