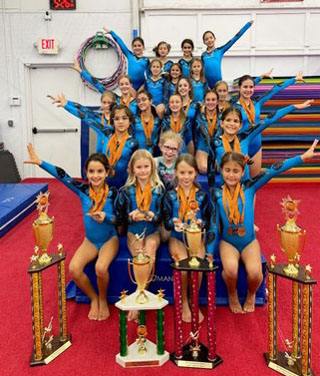 The Cats of Wellington gymnasts recently competed in the Novemberfest Invite hosted by Rising Stars Gymnastics. It was their last meet until the spring season.
The gymnasts took home first-place team in levels 1, 2 and 3, and third-place team for the Level 4 gymnasts.
Level 1 gymnast Gianna Priore took second place all around and first place on vault. Antonia Gardner (Level 1) took first place on bars. Both Olivia Gardner (Level 2 Junior) and Naomi Arco (Level 2 Senior) were awarded as Level 2 all around champions. Arco was also the unbeatable champion in all four events.
Level 3 Junior gymnast Kloe Mack took first place all around and first in all four events. Additionally, Level 3 gymnast Samantha Ceraso came in second place, Ava Gardner in third place and Abby Levine in fourth place. These four gymnasts took home the first four all around places for Level 3 Junior. Isabella Ceraso took first place all around and Valentina Detillio took third place all around for Level 3 Senior.
Level 4 Senior gymnasts Kylie England, Luciana Gomez and Nicole Sardinas placed first, second and third all around. Level 5 gymnasts Paige Touchet and Karly Lloyd placed third and fourth all around in their age group. Level 8 gymnast Alexis Katon took first place all around. She has now qualified to move up to Level 9 next season.