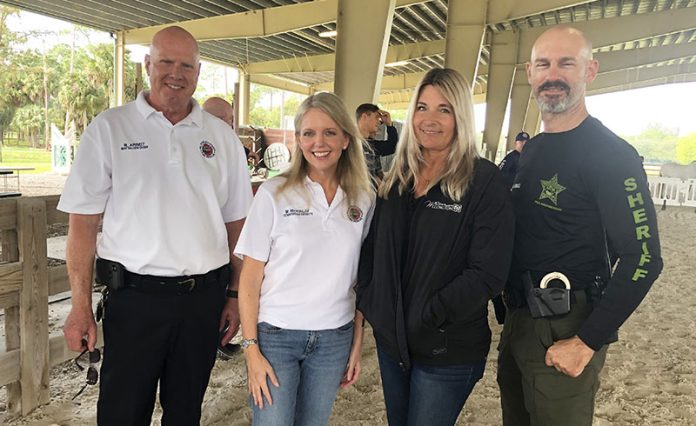 As the area prepares for its annual influx of more than 15,000 horses, the Vinceremos Therapeutic Riding Center offered free training sessions for local first responders to better prepare them for any emergency that could involve horses.
During three different sessions in December, first responders primarily from the western communities attended a three-part training on basic handling, emergency care and an abbreviated equine therapy session.
"It's our opportunity to give back to the community and really help our first responders," Vinceremos CEO Susan Guinan explained. "One thing Vinceremos has done in our 40 years of existence is look at our community and see what our community needs are. Adaptive riding was a big part of it, then hippotherapy, then equine-assisted learning, and now we help address so much of the mental health issues."
Each session began with a basic introduction to horses from Vinceremos founder and lead instructor Ruth Menor.
"We are excited to have you, and we are very fortunate that we have not had to call you very many times," Menor said. "Vinceremos' day job is our therapy horseback riding center. Today, we will also cover handling horses, because if you haven't had that experience, it becomes more dangerous for everybody."
Mental health therapist Carly Brown teamed up with Menor to discuss a bit of horse psychology as well, so participants can better understand the animals.
"Horses are a prey animal. This means they are a flight animal that is going to run before they fight. Very much a herd animal, they see safety with others," Brown explained. "They are going to feed off our tone and regulation. They communicate with their bodies, and that's what we are going to do today. We'll talk about safely approaching a horse. Horses have most of the emotions we have. They can be curious, nervous, frustrated and excited, but they don't feel shame or guilt. They only think about what is going on right now, and then they move on to the next moment."
Vinceremos instructors and volunteers began working with attendees in small groups, showing them tips and tricks on improvising a harness, de-escalating excitement in a panicked horse, leading the animals and how to make crucial herd observations. First responders also practiced leading horses through an obstacle course without touching the animal.
Veterinarians from the Palm Beach Equine Clinic also came to offer guidance on addressing open wounds, placing tourniquets and safely sedating a horse, if necessary, until experienced help arrives.
The training also gave Vinceremos a chance to share the wide range of programs that the nonprofit offers to the community.
"We work with kids dealing with physical and cognitive challenges. We treat a lot of individuals on the autism spectrum. On the emotional side, we work with children in foster care and individuals who have been trafficked. They all have these trust and anxiety issues. And then we work with veterans and first responders who have the same issues with depression and anxiety, often based in PTSD from what they've seen and handled while on the job," Guinan said.
The Vinceremos Therapeutic Riding Center is located at 13300 6th Court North in Loxahatchee Groves. For more information about Vinceremos, call (561) 792-9900 or visit www.vinceremos.org.