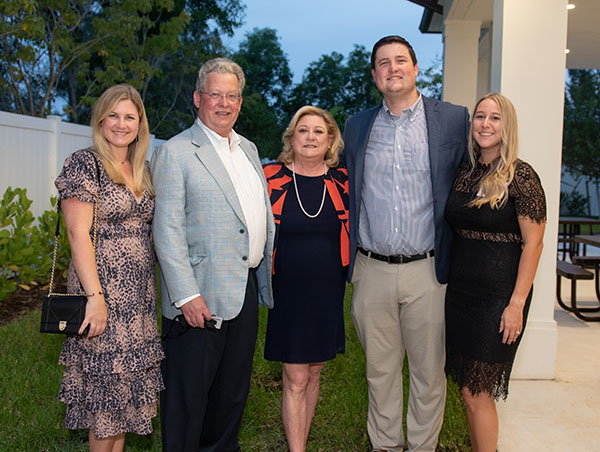 HomeSafe CEO Matthew Ladika recently announced a transformative $5 million gift to the nonprofit organization, which helps South Florida's most vulnerable residents — victims of child abuse and domestic violence.
On Oct. 28, a gathering of HomeSafe supporters attended a dedication of the Stoops Family Foundation Residential Cottage at HomeSafe's newest campus on Lyons Road just east of Wellington. HomeSafe's Vice President Aggie Stoops and her husband Jeff were thanked for their generosity.
"Through our results-driven approach, HomeSafe is the leading provider of prevention and intervention services, serving more than 14,000 infants, children, young adults and families each year," Ladika said. "We are just one of five specialized residential therapy homes in the state of Florida — the only one in Southeast Florida — and we currently care for more than half of all of the children these organizations serve. With the Stoops' generous $5 million gift, HomeSafe can continue to grow, enhance our programs and facilities, and evolve to meet the changing needs of these children."
Aggie Stoops chairs the Stoops Family Foundation, a private foundation focused on medical, social services and educational causes.
"My time as a social worker, counseling traumatized children with developmental disabilities, was an important part of my life," she said. "Because of these experiences, I was immediately drawn to the HomeSafe mission. These children come from some of the toughest, most heartbreaking circumstances imaginable, and are typically well beyond the capabilities of the traditional foster care system. HomeSafe is changing lives, and we are excited to be a part of its continued success, helping vulnerable children and families."
Jeff Stoops has served as president and CEO of SBA Communications since 2002. Based in Boca Raton, SBA owns and operates almost 34,000 wireless communications sites in 15 countries. SBA is a member of the S&P 500 and one of Florida's largest public companies by market capitalization.
"HomeSafe has a village of caring, highly trained professionals providing a safe, nurturing home to children struggling with severe mental and emotional challenges caused by the trauma that they have endured, through no fault of their own," he said. "We know our gift will help these children heal, cultivate a positive self-image, and pursue a healthy and hope-filled future for themselves. We also hope it will inspire support from others for their important mission."
The Stoops Family Foundation Residential Cottage is located at HomeSafe's new Sylvester Family Foundation West campus at 654 Lyons Road. The new 9,984-square-foot cottage will house 12 girls in their own individual suites, which include a private bedroom and bathroom. The cottage also has a kitchen, living and dining areas, therapy wing and gaming area to create a comfortable home environment. This location provides residential group care where treatment services occur in home-like settings. Dedicated professionals, guardians, community members and school personnel are all involved. Children in HomeSafe's residential group homes are expected to attend school and participate in suitable recreational and social activities. The specialized therapeutic group care is designed to give children the help and support that they need to achieve success.
For more information about HomeSafe, or to donate, visit www.helphomesafe.org or call (561) 383-9800.