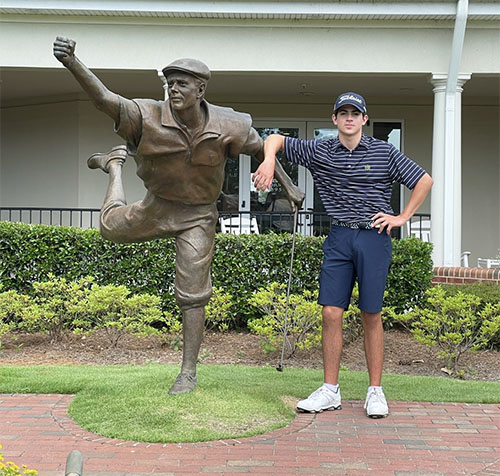 Young golfer Jason Shwartz, who has been establishing a name for himself both in the classroom and on the course, is on an impressive athletic and academic journey.
Shwartz and his family moved to the Wycliffe Golf & Country Club last June from Texas. At the beginning of the school year, he enrolled at the American Heritage School in Delray Beach, joining the boys varsity golf team.
By the end of the first semester in December, he had earned straight As in the classroom and had led the Stallions golf team to a 10-1 regular season match record. During the postseason, Shwartz won the local district title, finished ninth in the regionals and had helped propel the team to the Florida High School Athletic Association's Class 2A state golf tournament, which was held in mid-November at the Mission Inn Resort & Club in Howey-in-the-Hills, Florida. It was a 36-hole event. The Stallions finished fifth in the overall team competition, and Shwartz was fourth in the individual standings.
As an individual, Shwartz had a strong performance, but it could have been better. After two days of play, he shot 71-77, which was the best score on his team. His 148 total was seven shots behind the winner.
On the back nine of the second round of this year's state golf tournament, Shwartz had a four-shot lead with four holes to play. The individual state championship title was a strong possibility. But then the "golfing gods" took over and a small disaster took place on the 33rd hole of the tournament. He recorded a quadruple-bogey eight and tumbled down the leaderboard to end up finishing in fourth place.
"I tried to play a hero shot after a bad drive, and I walked away with an eight," said Shwartz, a sophomore at American Heritage. "It stung for a while, but I have gotten over it. I have two more chances to win a Florida state high school golf championship."
In many respects, golf is a reflection of life — you live and you learn from your mistakes. Shwartz has learned from his mistakes and won't forget that lesson.
Shwartz is already thinking about next year's FHSAA Class 2A state golf tournament. Don't be surprised if the Stallions capture the team title next year.
"This year, we had three freshmen, two sophomores and one junior on the team," said Shwartz, who has a handicap of +2.4. "We are really young, really good and really motivated."
Another person who is excited about Shwartz's immediate future is the head coach of the American Heritage boys golf team, Frank Lostaglio, who also serves as a golf professional at the Seagate Country Club in Delray Beach, the home course for the Stallions.
"Jason has been the leader of our team since he joined us in August," Lostaglio said. "Talentwise, he leads the pack. It has been a pleasure to have him on our team."
Not only is Shwartz a talented individual golfer, he's an invaluable teammate.
"Jason is happy to offer course management ideas and swing tips with his teammates," Lostaglio said. "Jason has the mental game to go as far as he wants to go in golf. He also has an incredible work ethic."
As a result of his memorable fall 2021 season, Shwartz was named Palm Beach County's Top Boys High School Golfer for 2021 by the South Florida Sun-Sentinel. The Palm Beach Post recognized Shwartz as one of 12 finalists for Palm Beach County's top male golfer, which will be announced this coming spring at the Palm Beach County High School Sports Awards.
In the meantime, Shwartz will continue to focus on what he must do as a high school student-athlete: play golf, attend classes and earn good grades.
To improve his golf game, he enjoys practicing and playing golf at Wycliffe.
"The golf professionals [at Wycliffe] have done an incredible job creating facilities for me to optimize my game," Shwartz said.
His favorite classes in school are chemistry and the business classes.
"I love chemistry, as it gets my blood flowing," Shwartz said. "In my family, the 'student' always comes before 'athlete,' and that's the way it always has been."