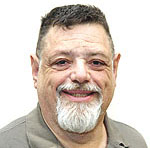 'I' ON CULTURE
New film Ghostbusters: Afterlife is the third sequel to the first uproarious movie and probably the best of the sequels. While critics are not very kind, the audience seems to love it. Rotten Tomatoes has critics giving it a 61 percent positive, while audiences giving it a 96 percent positive. That means it is not a particularly meaningful film, but it is funny. And we are living in a time that really needs funny. So, who you gonna call? Ghostbusters!
Single mom Callie (Carrie Coon) and her two children, 15-year-old Trevor (Finn Wolfhard) and 12-year-old Phoebe (Mckenna Grace), are totally broke and move out to Oklahoma because mom inherited a piece of property left her by her recently deceased father. As we find out later, her father is Dr. Egon Spengler (the late Harold Ramis, who manages a guest appearance as a ghost), the brainiest of the old Ghostbusters. And it quickly seems the family and the town needs what he has done in the past.
Phoebe, the central character, along with friend "Podcast" (Logan Kim) start to investigate strange earthquakes that are going on. She is fascinated by some of the old ghostbuster tools she finds around. She is befriended by burned out teacher Gary Grooberman (Paul Rudd), actually a seismologist, when mom sends her to summer school as a way of keeping her occupied. Trevor gets a job so he can flirt with gorgeous Lucky (Celeste O'Connor), a local girl who works at a 1950s style drive-in diner… with roller skates, no less, but they too wind up getting in the mix with the spirits at the place. A lot of the exploration of the problem goes back to the first film in the series, a good bit of nostalgia. And then all sorts of fun action gets going in a wild battle to prevent Gozar (the villain from the first film) from reentering this dimension and wiping out everyone.
The film is fun on many counts. People like myself, who loved the first film, are ready to enjoy the references to the early movies. Even better, the cast of the first film shows up and has more than a bit of fun. Some of the parts were small, but a couple were hilarious. Remember the Stay Puft marshmallow man? There were dozens of little ones in this film, creating all sorts of mischief in the local Walmart, and some of the bits were hysterical. There were laughs coming from all over the theater. The action holds together well, with an ending that really worked (with a minor, though effective steal from Star Wars) and managed to be both sentimental and moving.
The cast was really good. McKenna Grace was wonderful as the brilliant, geeky girl, misunderstood by her mother and brother, who finds a real friend and comes into her own. She becomes the architect of the battle against the bad guys, not only outthinking the nasty god-like figure but outfighting it as well. Kim was really good as her buddy, often put into a second banana position, but carrying off a lot of the comedy. Wolfhard was good as the sometimes bewildered but always willing brother, and O'Connor not only was a charming partner in puppy love, but a warrior woman as well. Coon and Rudd played well off each other as two lonely people who were just beginning to explore a deeper relationship before everything started to fall apart.
Some will argue that director Jason Reitman (son of Ivan Reitman, who made the first two films) just gave the audience what they wanted… a nod to the old days and following a similar plot. But all of this worked. Ironically, it seemed far more women-powered than the third film in the series, where the leading ladies were all caricatures of the males from the first two films, just louder and using broader comedy that often did not work. This film, allowing its women to simply be strong and interesting, amply demonstrated our new understanding of their role. Instead of displaying shtick, they followed the script and let the laughs come.
I liked the film. It ran for two hours, but the time seemed to fly by. It is a good comedy at a time we really need one. And, if you really liked the original movie, you should truly appreciate this one.