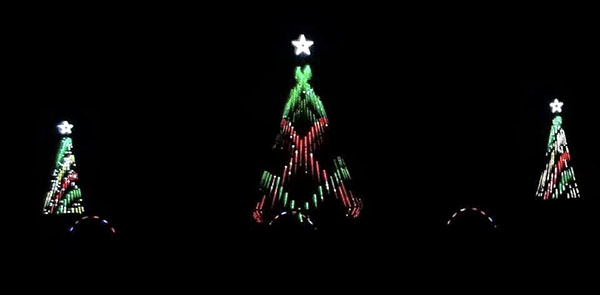 Last year's Lights 4 Hope drive-through light show at Okeeheelee Park welcomed approximately 30,000 guests to cruise gently through holiday music and fantastic light displays.
The event is now in its fourth year and opened in mid-November.
The light show runs on Fridays and Saturday from 6 to 10 p.m. and Sundays from 6 to 9 p.m. in Okeeheelee Park near Pooch Pines Dog Park.
Proceeds from the annual show are used to directly support local families challenged with children suffering from illness or life-altering physical changes.
"Due to the overwhelming success from last year, and the incredible sponsorships that have come through this year, Lights 4 Hope has been able to bless many families," Community Relations Director Meghan Buser said. "We have been in touch with many local families to brainstorm ways to provide the utmost joy to them through gifts, gift cards, holiday trees and other financial relief. The organization personally wraps and hand delivers these gifts to each family at their homes. The smiles are priceless, and we are happy to be able to offer a little bit of relief and joy to their lives."
The show is a perfect way to spend time with family and friends while keeping safe and socially distanced from the crowds. Guests are encouraged to roll down their windows to enjoy the festive music and take photos. Patrons are also welcome to tag @lights4hope and share their memories on social media.
"We appreciate the support our community has shown us. It has really been a community effort, and we look forward to continuing to make that local impact," Buser said. "All of the hard work throughout the year is worth it when you see the smiles of children's faces and of the families we are helping. It has been a blessing that we are able to do all of this and give back. Thank you to everyone for supporting this charity and helping us brighten the days of many deserving children."
Okeeheelee Park is located at 7715 Forest Hill Blvd., and guests enter on the north side of Forest Hill. The cost is $15 per vehicle (up to 8 passengers) and can be purchased at the event (cash and credit accepted) or online. For more information, visit www.lights4hope.org.