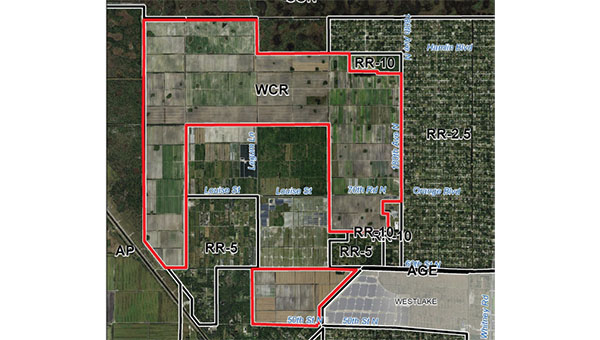 The Palm Beach County Commission heard a presentation Wednesday, Dec. 15 by GL Homes proposing to relocate some of its residential rights at Indian Trails Grove, west of The Acreage, to the Agricultural Reserve west of Delray Beach.
In exchange, GL Homes will dedicate 1,600 acres within Indian Trails Grove to Palm Beach County for water resources. The commissioners agreed to discuss the proposal further but did not specifically support the idea.
Palm Beach County Planning Director Patricia Behn, who was present at the meeting with about 20 members of her staff, said the concept proposed by GL Homes would require text amendments and future land use amendments to the comprehensive plan, and a series of zoning applications.
"We are gathered, based off of the commissioners' direction from the Oct. 26 board workshop on the Agricultural Reserve," Behn said. "The board directed staff to have us meet with the developer, GL Homes, to understand their current proposal to transfer some units from the western communities down south to the Agricultural Reserve in exchange for some 1,600 acres of property."
She explained that the presentation is unprecedented, in that staff does not have a report or an application or other details to provide.
The Indian Trails Grove site consists of about 4,871 acres. In 2016, the county adopted a future land use and text amendment to allow for 3,897 residential units and 350,000 square feet of non-residential uses on the property. The conceptual plan includes a 640-acre water impoundment area, and an additional 1,068 acres for water resources or agriculture. A subsequent amendment was proposed by GL Homes to relocate 2,315 residential development rights from Indian Trails Grove to the agricultural tier, but the amendment was withdrawn prior to its consideration.
The plan submitted on Wednesday proposes amendments to the Indian Trails Grove approval to delete 1,600 aces from the approved conceptual plan and convey that 1,600 acres to Palm Beach County, which would reduce the number of units on the Indian Trails Grove property from 3,897 to 2,612, a reduction of 1,285 residential units.
It also proposed to convey to the county 30 acres of a 105-acre site designated for civic uses to the Hyder West property in the Agricultural Reserve, construct 250 workforce housing units and other private civic uses on 75 acres of the Hyder West property, construct and convey to the county a 100-acre passive park on the Hyder West property, and construct a 1,000-unit market rate project on the remainder of the Hyder West property. The land is located on the west side of State Road 7, north of Clint Moore Road.
Principal Planner Bryan Davis said county staff seeks out chances to negotiate public benefits with larger parcels when they come in for development.
"That was the key concept," Davis said, adding that water management remains a major issue for the western communities.
He explained that GL Homes is a former citrus grove that encountered problems in 2000 with citrus canker and citrus greening. "The citrus industry virtually ceased to exist as we understood it, particularly in Palm Beach County, so this is a parcel under GL Homes' ownership for some time," he said.
GL Homes proposed to follow the county's old sector plan, which was challenged and ultimately rejected, but still followed by preexisting plans, including Minto's Westlake project, and the county-approved GL Homes plan from 2016.
"It got the density of 0.8 per acre, which over about 4,900 acres is about 3,900 units," Davis said. "It also had a required non-residential square footage. It was planned to be a complete community."
He added that GL Homes provided a significant amount of public benefit, including a 640-acre water impoundment for the Indian Trail Improvement District. The proposal also offered more than 1,000 acres for continued agriculture or water resources development.
GL Homes Vice President Kevin Ratterree said he was not asking the commission to approve the proposal immediately. "We are simply asking this commission to look at the proposal and make a determination whether or not this is something that warrants further consideration," Ratterree said, explaining that the process would involve a lot of work by both the developer and county staff.
He added that if the commission decides not to pursue the concept, GL Homes would continue with plans it has already been approved for.
Palm Beach County Water Resources Manager Jeremy McBryan said stormwater within the GL Homes site is collected by the L-8 Canal, which sends water either north to Lake Okeechobee or east to the Lake Worth Lagoon, south to the Everglades or to the Grassy Waters Preserve.
McBryan added that the area has had significant flooding issues in the past. "Improving water resources in this area is not new," he said. "It has been talked about for more than 20 years."
He said that GL Homes' 1,068 acres was part of Loxahatchee River planning that concluded in 2020.
"Again, [this is] not a new piece of property, not a new area of water resources needs," McBryan said. "It has been talked about for many years by several agencies."
Palm Beach County Mayor Robert Weinroth stressed that no decisions were being made that day at the meeting.
"All we are doing is just giving a signal whether it's worth having the next amount of work put into this, both on GL's part and on staff's part," Weinroth said.
After about 24 public comments, commissioners generally agreed to seek further study of the proposal.
Commissioner Melissa McKinlay said there should be a fair debate about the concept.
"There needs to be a quasi-judicial conversation," she said. "Let's put it on paper exactly what is being proposed, and let's have a fair debate. There will be times for fair rebuttal and extended public comment."