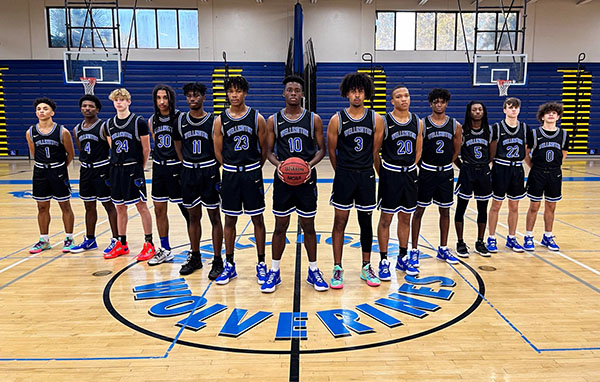 Wellington High School boys basketball head coach Matt Colin is cautiously optimistic that the 2021-22 basketball season will be one to remember.
For championship basketball teams, a big key to success is having a core of three strong and talented players working together to lead the team. That's what the Wolverines have this year in Brenden Williams, Terell Edwards and Reggie Reinhardt.
"Brenden Williams is my only returning starter from last year's team," Colin said. "Terell Edwards started half the season last year and learned a lot from the experience. He's now in a position of leadership and helps the post develop. Sophomore Reggie Reinhardt, a transfer from Dwyer, is a tough, hard-nosed player who can shoot the ball and is also a great rebounder and physically strong for a guard."
While Colin is confident that his team has many players on the roster who can score points, an important indicator for the Wolverines will be their ability to play a strong defense.
"I expect us to be one of the best defensive teams in the area," said Colin, now in his 14th year as the head boys basketball coach at WHS. "I think if we can bring energy, effort and mental toughness each night, we'll be tough to beat. Our guys have been working extremely hard. I think, as the season goes, this team will grow through the experiences we encounter. We hope that toward the end of the season, we will be playing our best basketball."
This year, Colin will be looking for big contributions from all 14 players on the roster.
Zayin Humber is a three-year varsity player. According to Colin, Humber's biggest strengths are his versatility and his height. "Zayin is a 6-foot-5 versatile point forward, who does a little of everything from running the point to playing as a big," Colin said.
Michael Bram is one of the team's most instinctive scorers. "Michael is one of the most skilled players on our team," Colin said. "He has a knack for scoring. Even at his size [5-foot-9], he is crafty on how to get the ball into the basket."
Daryl Brown will bring energy and toughness to the team when he's on the court. "Daryl is 6-foot-4 and is a tough physical post who rebounds well," Colin said. "And his motor is high every night."
Terell Edwards, who stands 6-foot-5, makes life difficult for opposing teams. "Terell is long and is an athlete who posts, blocks shots and rebounds the ball," Colin said.
Brandon Walters brings a team-first approach to the game. "Brandon is an energy and effort guy, who plays hard and excites his teammates," Colin said. "He shoots the three pointers, as well."
Brenden Williams is expected to lead by example this season. "Brenden is a preseason Fab Five selection in the Sun-Sentinel," Colin said. "He is a super quick guard who has a lot of pop and explosiveness. He can score in bunches and can score from all three levels. He also defends very well."
Trevor Bell is a proven point-producer. "Trevor is a high motor post who can also step out and shoot the ball or drive to the basket," Colin said.
Shawn Cineus can score from anywhere on the court. "Shawn is one of the best big men in Palm Beach County," Colin said. "He finishes everything around the rim and is a very good three-point shooter."
Kareem Khaliq can help the team in many different ways. "Kareem is a combo guard who has a nose for scoring and is getting better defensively," Colin said.
Reggie Reinhardt contributes to the team's success on both ends of the court. "Reggie is a tough physical guard who can shoot the three-pointer and finish through contact," Colin said. "He's a good defender, too."
Sean Standifer is a young, strong player who improves daily. "Sean is a 6-foot-4 freshman wing who can flat out shoot it," Colin said. "He has great height and length for a wing."
Jarvis Gulley will be a key reserve off the bench. "Jarvis is a lefty shooter who has unlimited range, good handles and can run some point guard for us," Colin said.
Dakota Salvatore-Izard is another young player who can hold his own against older, more experienced players. "Dakota is a 6-foot-3 freshman who is very athletic, tough, can shoot and plays above the rim," Colin said.
Zach Zigander has an impressive work ethic, which is contagious. "Zach is a lefty shooter who works hard day in and day out to improve and help his teammates," Colin said.
The season is off to a strong start as the Wolverines opened up play with three straight victories: 72-60 against Flanagan on Nov. 26; 70-43 versus South Plantation on Nov. 27; and 71-28 against Scheck Hillel Community School on Nov. 29. The Wolverines (3-0) will pursue their fourth win of the season on Friday, Dec. 3 at home against Atlantic High School. Tipoff will be at 7:30 p.m.
So far for the Wolverines, this season is off to the kind of start that they will always remember. If they continue their winning ways, this season could be one that they will never forget.