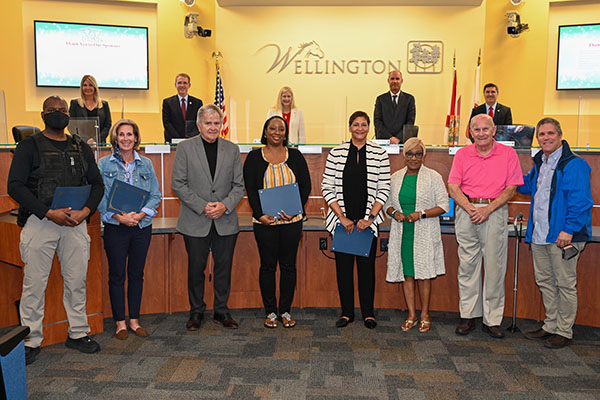 The Wellington Village Council recognized its community partners on Tuesday, Dec.14 for their work on this year's Hometown Holiday Toy Drive.
Wellington Community Services Director Paulette Edwards said that the village would not be able to do what it does without the help of its community partners.
"We were here not too long ago to recognize them for their contributions and support and partnership for our Hometown Holiday Food Drive, and we served more than 400 families last month," Edwards said. "Those families were extremely appreciative of the support they were able to get, and for so many, that allowed them to take that money that they would have had to put out for food toward other things that they needed to help their household."
Now it is time for the Hometown Holiday Toy Drive, which culminated this week.
"The toy distribution is on Thursday [Dec. 16] at St. Peter's United Methodist Church, one of our community partners, and that's where we're going to do the distribution," Edwards said.
She recognized everyone else along the way who had supported Wellington's community partners financially or by collecting toys for the toy drive.
"They are going to be working with us to assemble the toys, put the toys over at St. Peter's, and they're also going to be Santa's helpers or little elves to help the families pick out those toys on Thursday."
Toy drive contributors included the Alpha Alpha Upsilon Omega Chapter of the Alpha Kappa Alpha Sorority, Christ Community Church, the Palm Beach County Sheriff's Office, Premier Family Health, the Vinceremos Therapeutic Riding Center and the Wellington Community Foundation.
Edwards added that 500 children are registered for the toy drive. "We were really in need of this partnership, so thank you so very much," she said.
Mayor Anne Gerwig said there were some people on the list who were not able to attend that evening's meeting.
"I want everyone to be recognized who helped out with this," Gerwig said. "It really is a herculean effort. But when you see that room full of toys that are all sorted by different age groups and types of toys, it's a lot of fun for us. You are really great partners in our community."