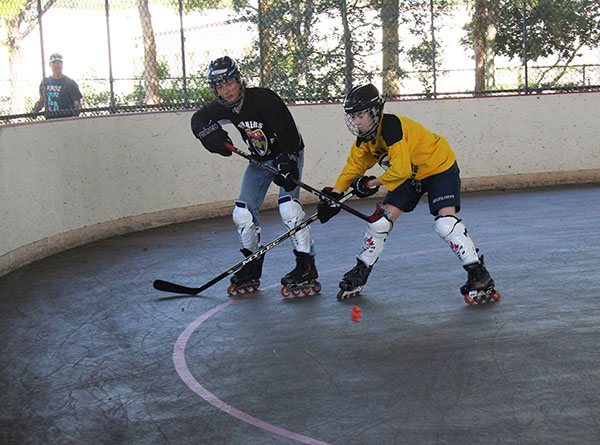 The Wellington Roller Hockey Association is continuing its season at Village Park on Pierson Road. Shown below are capsule summaries from WRHA Week 5 games.
Junior Bruins 2, Junior Panthers 1 — In a tightly contested Juniors tilt, the Bruins' Ethan Hoodack's second goal of the game broke a 1-1 tie late in the second period. The Bruins held on for the 2-1 victory. Bruins' assists came from Aiden Ruderer and Ben Schwartz. The Panthers' lone goal came from Luc Hanchuk, assisted by Richard Jones. The Panthers outshot the Bruins 32-30 in a game that came down to the closing seconds.
Prep Panthers 6, Prep Rangers 1 — Valentino Olivas' 4 goals led the Prep Panthers to a 6-1 victory over the Rangers. The Panthers broke open a tight 2-0 game with three goals late in the second and at the start of the third period. Additional Panthers scoring came from Milo Xue (one goal) and Carson Miller (one goal/one assist), both scoring their first goals of the year. Nathan Mosquera scored the lone goal for the Rangers, also his first of the year. Goaltender Justin Spina made 16 saves in the net for the Panthers.
Learn more about the league at www.wellingtonrollerhockey.com.