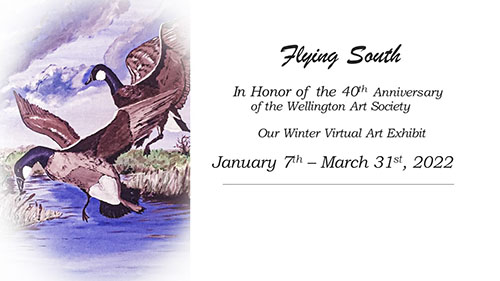 The Wellington Art Society recently opened a new virtual art show called "Flying South," which opened Jan. 7 and will continue until March 31.
This exhibit features 10 artists and 48 original works of art, including photography, digital art, mixed media on hand-made paper and an array of paintings using various mediums. All artwork is for sale, and a portion of the proceeds goes toward Wellington Art Society scholarship and outreach programs.
The 10 artists exhibiting are: Rachel Laub, Charles Moses, H.V. Albrecht, Susan Oakes, Laura Jaffe, David Ciofalo, Eric Reibeek, Joseph Marcou, Del Foxton and Mauricio Perry.
The Flying South Virtual Art Show is a free online event presented through Kunstmatrix, which is a unique and innovative platform that enables artists to create beautiful and realistic 3D versions of their artwork, displayed in a sophisticated virtual exhibition space.
Visitors can view artwork one of several ways, including moving themselves around the exhibit using the arrows that appear on screen or by using the cursor. A guided tour is also available.
For more information about Flying South, or to learn more about the featured artists, visit www.wellingtonartsociety.org.