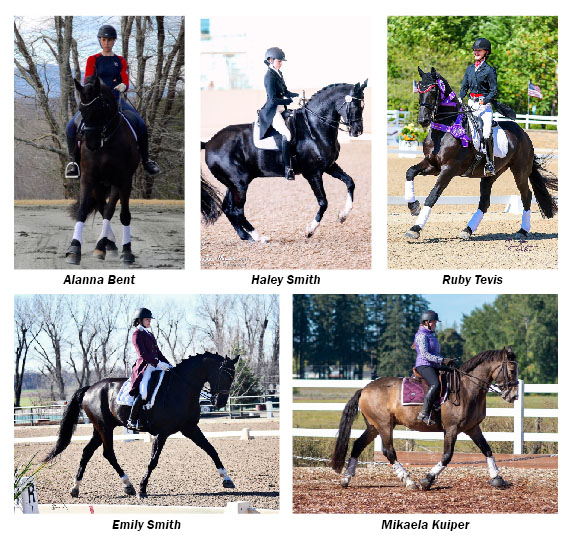 The Dressage Foundation (TDF) recently announced that five young adults will participate in the first-ever Young Rider International Dream Program trip to Wellington in March. Thanks to generous donors, the Dream Program is a fully funded opportunity for riders who are 18 to 22 years old, riding 3rd Level and above, and who have never trained or competed in Wellington.
Alanna Bent of South Carolina, Emily Smith of California, Haley Smith of California, Mikaela Kuiper of Washington and Ruby Tevis of Kentucky were selected to participate in this year's program. The selection committee based their decision on candidates' merit, riding proficiency, a history of volunteering in the dressage community and commitment to training in the sport of dressage.
During their week in Wellington, TDF's Dream Program group will be led by a dressage professional as a chaperone and will have the opportunity to meet with some of the top riders, coaches and judges in the world. The group will also attend competitions at the Adequan Global Dressage Festival. While traveling, the young riders will record their observations in daily journals and chronicle the events with photos and video to share.
TDF's Young Rider International Dream Program was originally created in 2000 by Olympian Michael Poulin as a trip to Europe for four top U.S. Young Riders. Since then, the program has given 64 young riders the chance to be immersed in the international dressage scene. Most of those riders have become dressage professionals, including 2005 participant and Olympian Adrienne Lyle.
This year, with the uncertainty of global travel due to the pandemic, TDF's board pivoted the program to take place in Wellington instead of traveling abroad. Additionally, thanks to a donation from Margaret Duprey, a fifth participant was selected for the trip instead of four.
"We are grateful to our donors for giving this incredible opportunity to deserving young adults who have never experienced Wellington before," TDF Executive Director Jenny Johnson said. "We've received donations for this trip in memory of Sue Curry, in memory of Christa Sullivan, and from individuals who believe in the future of our sport."
Further information on TDF's Young Rider International Dream Program can be found at www.dressagefoundation.org.
Donations to support the Young Rider International Dream Program are welcome. Gifts can be made by credit card online at the web site or by calling TDF's office at (402) 434-8585. Donations by check can be mailed to: The Dressage Foundation, 1314 'O' Street, Suite 305, Lincoln, NE 68508.
The Dressage Foundation is a nonprofit, tax-exempt, donor-driven organization that is dedicated to educating, supporting and advancing the sport of dressage. The organization solicits contributions, appropriately allocates the donations, and awards grants to dressage riders, judges, instructors, breeders, high-performance teams, nonprofit equestrian organizations and more.
For more info., contact Jenny Johnson at (402) 434-8585 or jenny@dressagefoundation.org.