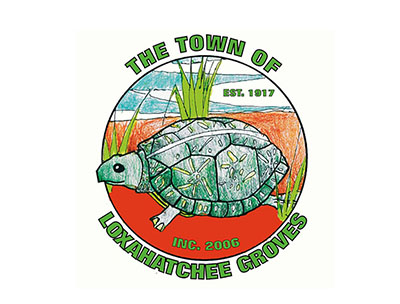 The Loxahatchee Groves Landowners' Association will hold a candidates' forum on Thursday, Jan. 27 for the upcoming municipal election. The meeting is open to the public and will run from 7 to 9 p.m. at Palms West Presbyterian Church, located at 13689 Okeechobee Blvd.
In the Tuesday, March 8 election, two seats on the Loxahatchee Groves Town Council are being contested. Longtime resident Paul Coleman is challenging Mayor Robert Shorr for Seat 4, and former Councilman Todd McLendon is challenging Vice Mayor Laura Danowski for Seat 2.
"We haven't picked the moderator yet," LGLA Vice President Virginia Standish told the Town-Crier. "We're trying to find someone who is mutually agreeable to all parties. We are going to try to have it recorded, so that anyone who is not able to attend may hear it also."
The public is welcome to submit questions for candidates to info@mylgla.com, or they may be called in to Marge Herzog at (561) 818-9114.
The Town-Crier spoke to the four candidates last November about their campaigns.
Danowski was elected in 2019, defeating McLendon in his bid for a second three-year term. She is running for re-election based on the accomplishments of the past three years, with the council and town staff working as a team.
She pointed out that the council has approved almost $2 million in road surfacing and drainage project repair since she has been on the council, and in November enacted a three-year plan to fund continued road surfacing and maintenance.
Danowski said that other achievements include term limits for council members, five-day town hall access for residents, installing an in-house building official and code enforcement personnel, and the purchase of new equipment for the public works department.
The town returned to a five-day workweek after Town Manager Jamie Titcomb was hired, replacing Underwood Management Services Group. The town has also held numerous community events, cleanups, parades and fundraisers. If re-elected, Danowski wants to keep up the momentum on road surfacing and repairs.
McLendon served on the council from 2016 to 2019, when he was defeated by Danowski. Also elected at the time were Shorr and former Councilwoman Lisa El-Ramey, who was defeated by Councilwoman Marianne Miles last year.
McLendon said that Danowski is a follower not a leader, and that there has been a lack of transparency over the past three years, pointing out that the council has approved more than $1 million in expenditures that have not been on the agenda.
He added that the council has purchased equipment for the utilities department but appears to have a hard time keeping employees to operate it. McLendon said the town has enacted a public relations department but lacks employees in other important areas. He is also unhappy with the day-to-day maintenance of the town.
McLendon is self-employed and has an exotic bird farm that he maintains, as well as a computer-related business.
Coleman, 47, is a public building inspector for Palm Beach County. He has been in construction and retail management all his life. Married to wife Kristi for 23 years, they have a 15-year-old daughter Keelin. He has lived in the same house in Loxahatchee Groves since he was two years old.
He is concerned about the development of Loxahatchee Groves and the direction it is going and feels that he can help move the town in a direction that's good for all the residents.
Coleman's father, Tim, who passed away several years ago, served on the Loxahatchee Groves Water Control District Board of Supervisors. The old LGWCD has now been taken over by the town as its public works department.
Coleman feels that previous boards, as well as the old LGWCD board, applied a Band-Aid approach to problem solving and needs to address things more proactively. He added that development and population growth to the north and west needs to be addressed to ensure those changes don't change the face of Loxahatchee Groves.
Shorr said that he ran in 2019 to get the community more involved in the town. Since he was elected, the town has held a Fourth of July parade, two Veterans Day parades and veteran ceremonies, as well as several town cleanups, a council chili cookoff, coffee with the mayor, coffee with the sheriff and holiday food baskets. Shorr also started an annual trail ride two years ago to raise money for the town's scholarship fund.
Shorr noted that over the last three years, the town has built up the road base for 20 miles of dirt road and laid down more than nine miles of paving. He further noted that the millage rate of 3.0 has remained the same for several years, the assessment has remained at $200 an acre and waste disposal at $450 per residence.
The town has also increased its reserves to $950,000 over the past three years, he said, adding that the town has zero current debt, retired old debt and paved the OGEM segments. Shorr also noted that the town upgraded to a new energy-efficient canal pump on F Road, the only pump that supplies water to the town during the dry season.