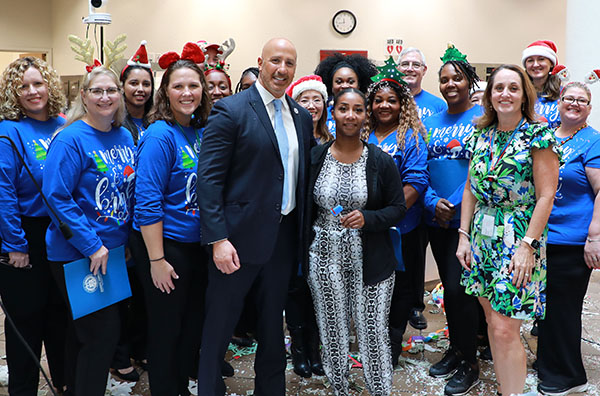 A holiday tradition returned to the Palm Beach County Governmental Center last month with the Clerk of the Circuit Court & Comptroller's annual "Money Drop" concert to raise money for a local family in need.
Money dropped from six floors above the Governmental Center atrium while the Clerk's Circuit Sound carolers performed festive holiday songs. The performers raised $3,196 during the show, with Palm Beach County Clerk Joseph Abruzzo personally bringing the total to $3,500 — the highest total ever collected during a "Money Drop" concert.
The money raised will go to Trekita Harris, a single mother of two high school-age children with no steady place to live since she was evicted from her home after falling ill. She was nominated by Community Partners of South Florida and the Securing Our Future Initiative.
"Helping those in our local community is such an important part of this job," Abruzzo said. "I applaud all of our incredible employees for going above and beyond with this year's Charitable Giving program. Whether they're donating money or volunteering their time to community organizations, they are dedicated to giving back. I'm proud to be part of the clerk family."
In addition to Harris, Abruzzo presented checks for $6,433 each to five local nonprofit groups selected through the office's Clerks for a Cause Charitable Giving program. This year's recipients, all voted on by clerk employees, were the Leukemia & Lymphoma Society's South Florida Region, Little Smiles, the Live Like Jake Foundation, Meals on Wheels of the Palm Beaches and the Peggy Adams Animal Rescue League.
Clerk employees donated $32,165 to the Dress Down Friday program this year, part of the more than $52,000 donated to charitable causes by the clerk's office in 2021.
Clerk employees voluntarily donate money through payroll deductions as part of the office's Dress Down Program, which allows team members to wear jeans to work on Fridays. This program has raised more than $1 million since its inception in 1994.
To learn more about the office's charitable giving efforts, visit the Charitable Giving page on www.mypalmbeachclerk.com.