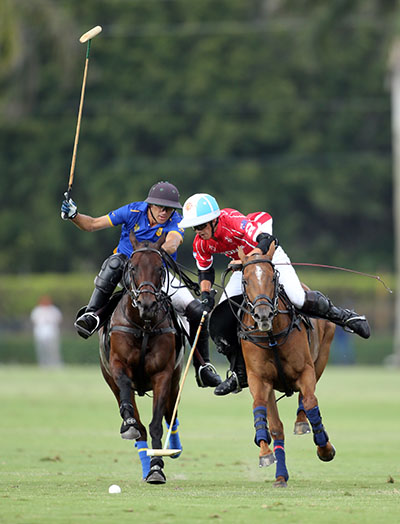 Proudly hosting the Gauntlet of Polo since its debut in 2019, the United States Polo Association, USPA Global Licensing and the International Polo Club Palm Beach recently announced that nine teams will compete for the title of Gauntlet champion this year.
For the first time in Gauntlet of Polo history, the competition has been thrown wide open in 2022, accepting individual team entries for all three tournaments of the high-goal series. Adding another layer to the competition with additional teams joining the rosters in March and April, the 2022 U.S. Open Polo Championship will field an astounding 20 teams for the first time in the tournament's 118-year history.
Although conceding the 2021 C.V. Whitney Cup in overtime to Park Place, Scone swept the remaining two trophies in the team's Gauntlet debut. Both Park Place and Scone have returned with a slight change to their rosters and will compete for the Gauntlet title, which eluded them both last year. Crowned Gauntlet of Polo champions during the inaugural year, Pilot remains the only team to have raised the overall trophy and will seek to add their name to the coveted trophy for the second time in 2022.
Drawing nine 10-goal players, each representing different teams, the 2022 Gauntlet of Polo also features seven 2021 Argentine Open finalists and three players (Polito Pieres, Jeta Castagnola and Barto Castagnola) from the winning La Natividad team. Also representing women at the highest levels of the sport, Gillian Johnston and Melissa Ganzi will lead Coca-Cola and Santa Rita, respectively. After conceding his record of youngest player to win the U.S. Open Polo Championship to Poroto Cambiaso in 2021, 8-goaler Nic Roldan highlights a strong field of American professionals, which also includes Juan Bollini Jr., Nico and Lucas Escobar, Jeff Hall, Keko Magrini, Geronimo Obregon, Jason Crowder, Mackenzie Weisz and Jared Zenni, among others.
Gauntlet of Polo teams signed up for all three legs — the C.V. Whitney Cup, the USPA Gold Cup and the U.S. Open Polo Championship — include: Cessna with Will Johnston, Camp Campbell, Miguel Novillo Astrada and Gringo Colombres; Coca-Cola with Gillian Johnston, Nico Escobar, Nico Pieres and Julian de Lusarreta; Dutta Corp/Show+ with Timmy Dutta, Tomas Garcia del Rio, Iñaki Laprida and Joaquin Avendaño; La Fe with Louis Devaleix, Robi Bilbao, Francisco Elizalde and Lucas Diaz Alberdi; La Indiana with Stewart Armstrong, Jeff Hall, Lucas Criado Jr., Lucas Criado and Mariano Aguerre; Park Place with Andrey Borodin, Juan Britos, Hilario Ulloa and Cody Ellis; Pilot with Curtis Pilot, Mackenzie Weisz, Facundo Pieres and Matias Torres Zavaleta; Scone with David Paradice, Keko Magrini, Poroto Cambiaso and Adolfo Cambiaso; and SD Farms with Sayyu Dantata, Lucas Escobar, Pelon Stirling and Peco Polledo.
At least 11 additional teams are scheduled to join later in the series.
"This year's Gauntlet of Polo will be the most challenging ever for the nine teams that have entered all three tournaments, considering four additional teams will be vying for the USPA Gold Cup, and 11 additional teams will be part of the 20-team U.S. Open Polo Championship — the most in history," said Chris Green of the USPA. "It doesn't get more competitive than that!"
The 2022 Gauntlet of Polo will begin Feb. 6-27 with the C.V. Whitney Cup, followed by the USPA Gold Cup March 1-27, and conclude with the U.S. Open Polo Championship from March 29 through April 24.
All Sunday featured games will be held on the prestigious U.S. Polo Assn. Stadium Field. Revising the prize money distribution for the 2022 season, the new format guarantees a total of $200,000 in prize money. $50,000 will be awarded to each of the winning teams of the C.V. Whitney Cup and USPA Gold Cup. Similarly, $100,000 in prize money will be presented to the winner of the U.S. Open Polo Championship, and any team that wins all three tournaments will be crowned the Gauntlet Champion. In keeping with the spirit of philanthropy, U.S. Polo Assn. will again provide funds to the winner and runner-up teams of all three finals to be donated to a polo charity of their choice.
All three tournaments will be livestreamed on Global Polo TV's OTT platform, accessible at www.globalpolo.com and on major apps, including iOS, Android, Roku and Amazon FireTV. Also, marking a historic partnership between Global Polo Entertainment and ESPN, all three Gauntlet of Polo finals will be televised live on ESPN3, ESPN LATAM and Star+ in Latin America. Increasing the exposure of the sport through top tournaments, the deal will bring millions of new audiences, sports fans and consumers in contact with polo.
Also new in 2022, the Global Polo Pass annual subscription has replaced the previous pass options and will include access to all livestreamed USPA official events, select international events and more. All USPA members will receive the Global Polo Pass free with a paid 2022 membership. Special offers are available at www.globalpolo.com.
To learn more about the Gauntlet of Polo series, visit www.uspolo.org/gauntlet-of-polo.
For more information about spectatorship at the International Polo Club Palm Beach, visit www.internationalpoloclub.com.