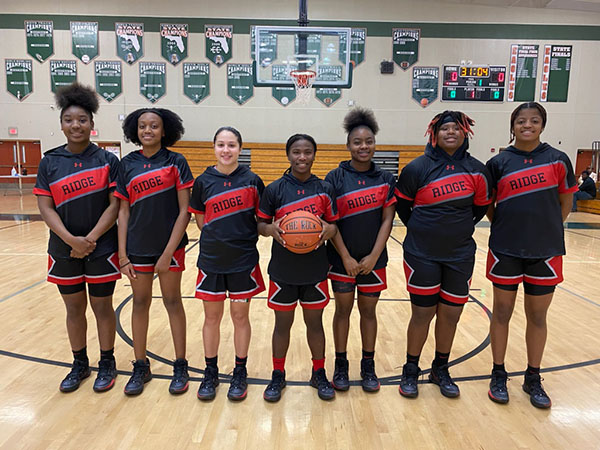 By the end of the current season, the girls varsity basketball team at Seminole Ridge High School may very well be known as the "sensational seven."
With just a seven-player roster, the Hawks won their first eight games of the regular season. Only one game has been somewhat close, a 56-52 win at Fort Lauderdale's Westminster Academy back on Dec. 6. Three of the Hawks' impressive victories this season have been against Palm Beach County schools that have a strong record of producing top-notch girls basketball teams: Boca Raton, William T. Dwyer and Palm Beach Lakes. The Hawks sprinted past Boca Raton 61-18 on Nov. 18, hammered Dwyer 77-32 on Dec. 9 and doubled up Palm Beach Lakes 54-27 on Dec. 29.
Palm Beach Lakes has advanced to the final four of the Florida High School Athletic Association's Class 7A state tournament for the last two years. Clearly, the current team from Seminole Ridge is the real deal and likely will be a force to be reckoned at the FHSAA Class 6A state tournament.
Seminole Ridge head coach Maria Hudson likes what she sees from her team, both in practice and on the court.
"This is a great group of players who are committed to excellence. We don't have a single selfish player on the team," said Hudson, now in her fifth year as the girls basketball coach at Seminole Ridge. "We run hard in practice so we can run hard in games. We have to be fit because we run a man-to-man defense."
Last year's Seminole Ridge girls varsity basketball team had a strong regular season, but COVID-19 hit the squad at season's end, which curtailed any dreams of a post-season trip to Lakeland for the state tournament. That memory remains fresh in the minds of the four players on this year's squad who were on the team last year.
"We need to stay healthy so we can play in the post season," Hudson said.
Each player on the roster, which includes three freshman and two sisters, has played a big role in the success for the Hawks on the hardwood.
The two key players on the roster are a pair of senior co-captains: shooting guard Aspen Johnson and point guard Ashley Thornton. The 5-foot-11 Johnson, who is committed to Mercer University next year, is the team's leading scorer. She averages 18.3 points per game. Thornton averages 16.8 points a game. Only 5-foot-5, Thornton plays way bigger than her size.
"Ashley is our hidden gem because she is not very tall and everybody overlooks her," Hudson said. "She controls the ball, can pass, shoot and rebound."
Thornton leads the Hawks in assists (3.4 per game) and in steals (3.3 per game).
The two sisters are junior Iasiah Suprius and freshman Janiah Suprius. Iasiah is a transfer from Santaluces High School. She and Janiah are making big contributions to the team.
"Iasiah is one of our big rebounders, and she is a great shooter, who averages just over 10 points a game," Hudson said. "Janiah is fast, athletic, agile, can defend and has a great basketball IQ for a freshman. She also averages just over 10 points per game."
Junior Kiori Butler is one of Seminole Ridge's top defenders. She thrives on being the proverbial "fly in the ointment," making life difficult for the opposition.
"Kiori is one of our big rebounders, dives for loose balls, and is one of our enforcers on defense," Hudson said.
Freshman Breanna Custodio, who averages five points per game, has a strong work ethic and gets better with every game. "Brianna loves to play basketball, is fast, willing to defend and is still learning the game," Hudson said.
Freshman Jayla Midget is following in the footsteps of her older sister Jahnae, who graduated from Seminole Ridge last spring and is now playing basketball for Palm Beach Atlantic University.
Unfortunately, Jayla is recovering from a broken toe suffered during the recent holidays. She is not expected back on the court until late January.
When she has played, Midget has contributed in many different ways. "Jayla can score, rebound, dish out assists and make steals," Hudson said.
As of early January, the Hawks were listed in the top 10 in Florida for Class 6A schools. If the team continues its winning ways, this year's squad will truly deserve to be labeled as the "sensational seven," especially if this group of young athletes can win their way to the RP Funding Center in Lakeland for the FHSAA's annual Class 6A state tournament next month.