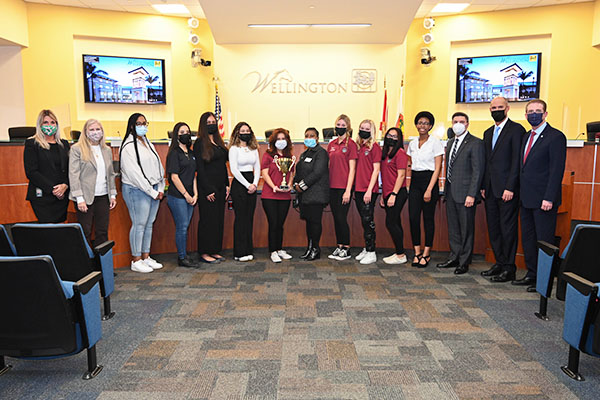 The Wellington Village Council on Tuesday, Jan. 25 gave preliminary approval to an ordinance that would allow the limited use of artificial turf for some residential driveways and commercial areas not visible from the street.
Planning, Zoning & Building Director Tim Stillings said current land development regulations limit the use of artificial turf to government purposes.
"We have had a lot of interest, including one of our shopping center owners, in installing some, which led us to look at some different rules related to the application of [artificial] turf," Stillings said.
In September, the council approved a zoning-in-progress resolution for 180 days in order to give staff time to research and put together an ordinance.
"We're finally bringing it before you this evening for consideration," he said, explaining that artificial/synthetic turf is used on sports fields, parks, playgrounds, residential properties and common areas.
The current turf on the market, known as third-generation turf, is less abrasive, less toxic and looks more like natural grass.
Stillings said artificial turf uses less water during shortages, requires no fertilizer or pesticide and provides a usable surface for the disabled. It requires no mowing, and reduces the amount of yard waste and air pollution from equipment. It's non-allergenic and durable, and able to withstand heavy use from sports and foot traffic, he added.
However, there are negative aspects to the use of artificial turf, such as an increase in temperature of up to 40 degrees Fahrenheit higher than natural grass, an increase in storm water runoff, no ecosystem benefit, chemicals and synthetic materials, concerns with impact on human health and the environment, odor buildup and the loss of natural green space.
The proposed changes would have allowed the limited use of artificial turf for residential properties in the rear and side yards, and limited use on driveways, in residential common areas and recreational areas. It would also be allowed in commercial areas, but not in landscape buffers or areas visible from the right of way.
Stillings noted that the Planning, Zoning & Adjustment Board recommended approval 6-1, and the Tree Board recommended approval 5-1.
Mayor Anne Gerwig said she favored artificial turf in front yards or driveways between pavers in residential areas, but not in back yards.
Councilman Michael Napoleone said he favored limited commercial use and decorative use in driveways, but he was not ready to approve residential use in back yards, especially not at up to 75 percent as recommended by staff.
Councilman Michael Drahos said he preferred to allow residential use in people's back yards. "I would rather we stay out of people's back yards unless there is a compelling reason," he said.
Councilman John McGovern suggested that the council pass the first reading of the ordinance for commercial areas and driveways, and let staff make changes for back yards before the final reading.
McGovern said he might be persuaded to allow residential backyard applications if the ordinance would include warranty protection, if there were a lower percentage than 75, and if appropriate barriers could be required between artificial turf and a neighbor's real turf.
"We have to have a requirement of what must be there," he said, adding that he could see that artificial turf could be useful in side areas of zero-lot-line homes where there is little sunlight. "We can amend this as we go forward. I'm perfectly fine with this starting as just driveways and commercial."
Napoleone made a motion to approve the ordinance with the deletion of artificial turf use in residential back yards and the addition of use in driveways. McGovern seconded the motion, adding that he wanted the ordinance to come back for a second reading with further discussion. The motion carried 4-1 with Drahos opposed.