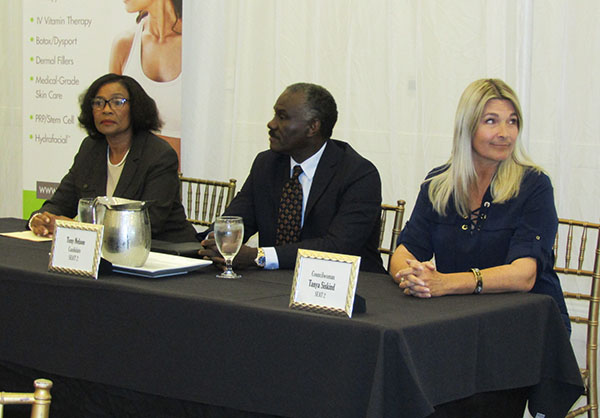 The Wellington Chamber of Commerce held a luncheon Wednesday, Feb. 23 featuring a question-and-answer session with the five candidates seeking two seats on the Wellington Village Council in the Tuesday, March 8 election.
Attending the event at the Wellington National Golf Club were Seat 2 candidates incumbent Councilwoman Tanya Siskind and challengers Tony Nelson and Karen Morris-Clarke, as well as Seat 3 incumbent Vice Mayor John McGovern and challenger Johnny Meier. The candidates began by introducing themselves.
Morris-Clarke, a 22-year resident, is married to Patrick Clarke and has worked extensively in both the fields of real estate and travel.
"My vision for Wellington is to work on improving our already beautiful community," she said. "I'm Jamaican by birth and a proud American by choice."
After losing her son in a traffic accident in 2016, she said she took stock of her life and received a bachelor's degree in political science from Florida Atlantic University, becoming a Realtor and investor.
Morris-Clarke said she is ready to be a voice and liaison for families, individuals and small businesses that are often not represented in council matters. She wants to expand the safety of local and neighboring roadways and advocate for small businesses. She also wants to protect the equestrian and aeronautical communities, green space, safety and family friendliness of the village.
Nelson, a 36-year resident, came to Wellington from Boca Raton when he was asked to open an Allstate regional office. He was eventually asked to join the American Bankers Insurance Group. "At the time, it was 499 in the Fortune 500," he said.
After American Bankers, he joined The Breakers where he worked for 12 years. He is currently president of Premier Family Health, which set up the first COVID-19 testing site in the western communities. Nelson said that the Village of Wellington considers its response to the COVID-19 pandemic as an accomplishment and that he has played a significant part in that work.
Siskind said she and her husband Jeffrey have lived in Wellington for 21 years. They have three children. She was appointed to the council in 2016 and was elected in 2018. She served as vice mayor in 2020.
Siskind also serves on the board of the Education Foundation of Palm Beach County and is on the Government Affairs Committee of the Realtors Association for Broward, Palm Beach and St. Lucie Counties. She is a Realtor with Keller Williams Wellington. Before her council service, she was active with the Binks Forest Elementary School PTA, serving six years as president.
"I want to run for re-election to keep Wellington going in the right direction," she said. "I think we have a lot of great things going here, and I think you agree this community is lovely. We have low crime, low taxes and excellent schools. I've been a part of that, being on the council the last six years."
McGovern, who is married to Michelle McGovern, a candidate for Palm Beach County Commission, said he has been asked recently why he is running for re-election. "I'm running for re-election because Wellington is personal to me," he said. "I grew up here; it shaped who I am as a person. I've come back here to raise my children, and I'm running for re-election because I will do whatever it takes to keep Wellington our great hometown. My experience, judgment and leadership make me the most prepared and qualified choice to ensure that our village stays great and continues to improve."
McGovern said he has seen Wellington evolve over the last 40 years into one of the safest, happiest, most fiscally responsible communities in the state.
"We need to work together, we need to make strong decisions, make the right choices this election and keep our community moving forward," he said.
Meier, the owner of My Community Pharmacy, noted that he is an active member of the Wellington Chamber of Commerce, including a past president and treasurer. He said that he is a first-generation American whose mother was a Vietnamese refugee with no money who did not speak English when she arrived in America.
"Not only do I have a pharmacy, I have two other businesses here in the Village of Wellington," he said.
Meier said that his mother, who raised him and his sister, had a strong work ethic.
"I want to bring that same work ethic to the Village of Wellington," he said, adding that in his work at his pharmacy, he is in contact with his customers, who share their concerns with him. "I work with the community on a daily basis. I feel like I have a really good pulse on the Village of Wellington. There's a whole bunch of issues that I want to tackle."
Among a variety of questions, the candidates were asked what they would do to support the Wellington Chamber of Commerce.
Morris-Clarke said as a member of the Wellington Chamber, she is told by many businesspeople that they cannot afford to become members. She would like to see a way that all small businesses could be members of the chamber. "I commend the work that they do," she said.
Nelson said he has been a supporter of both chambers of commerce in Wellington for many years.
"The first thing that I would do is bring the chamber to the table," he said. "I think it's important that it's not just the council making all the decisions. I think you need to be involved in making the decisions."
One of the first things he would do if elected is organize a quarterly forum of all small businesses and business leaders.
"We need to be at the table," he said, adding that the Wellington Chamber serves more than just Wellington. "I think the Wellington Chamber serves the entire western communities."
Siskind said the council does not make decisions for the chamber, but it does work with the chamber very well.
"We have a long history of attending events and doing events together, partnerships, and I think the chamber does an excellent job of running itself," she said. "They are really good at event planning, and I think they do a really great job. I just think that to continue that relationship would be very important. We could certainly partner even more than we do, but we do a lot together."
McGovern said that he has attended chamber events for the entire time he has been on the council.
"I take a little bit of a different view, I think, that, as Mr. Nelson pointed out, we are well-served in the western communities by two chambers of commerce, the Wellington Chamber of Commerce and the Central Palm Beach County Chamber of Commerce," he said. "The Central Palm Beach County Chamber has a larger, more regional focus. What distinguishes the Wellington Chamber, in my opinion, is its direct focus on Wellington."
He said he would challenge the Wellington Chamber to come back to that specific mission, to focus on Wellington and Wellington business. "I would love for them to be a liaison to me in that particular regard," McGovern said.
He added that the new driving force of small business in Wellington is home business. "I hope that the chamber would reach out more and more in coming years to home businesses because that is a core economic driver here in our community," McGovern said.
Meier said he disagreed with McGovern's statements regarding the Wellington chamber's exclusivity to Wellington.
"I believe that the inclusivity that the chamber offers is what makes us a great chamber," he said. "In my opinion, I think there are more businesses that need to be included into the chamber, and we need to get more bodies in and do some more things with sponsorships. It seems like there's the same sponsors and sponsored events over and over and over, so I think we could do a better job as far as getting more businesses active and doing more events."
Meier added that he felt the village has done a good job partnering with the chamber, but there needs to be more cohesion.
See video from the chamber forum below: