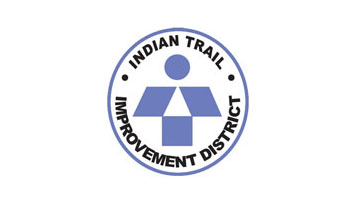 The Indian Trail Improvement District Board of Supervisors held a public meeting Wednesday, Feb. 16 to consider whether it is in the public's best interest for ITID staff to construct a one-mile segment of Carol Street adjacent to the Santa Rosa Groves neighborhood, or rely on a private contractor selected through a competitive bid.
ITID Attorney Frank Palin said the meeting was to gather public comment and establish a record in accordance with Florida Statutes on whether it is appropriate for the district to use its own labor and materials for the construction project.
"District staff is recommending that a one-mile segment of Carol Street be paved," Palin said, explaining that the paving would take place between 60th Street North and Louise Street. "Carol Street is currently an unimproved public roadway. It is owned by the district and is currently used by the public."
He said the cost estimate of about $526,490 is based on a formula established by state statutes.
"State law generally requires that any new construction project in excess of $440,000 be performed by a private contractor competitively selected.  However, if the board finds that it is in the public's best interest to do so, the district may use its own labor and materials, and not bid the project," he said.
The project includes installation and compaction of millings and asphalt surfacing of the road.
ITID Assistant Executive Director Rob Robinson said the timeframe for a competitive bid is nine to 12 months, and Santa Rosa Groves has been plagued with flooding issues in the past. He pointed out that the residents of Santa Rosa Groves had come to ITID almost four years ago asking to have the road paved.
"We're looking at this as a time-sensitive issue," Robinson said, pointing out that ITID Engineer Jay Foy had estimated a public bid would be more than $1.5 million.
Robinson said that major contractors come to the district for advice in paving roads such as Carol Street.
"The reason we're pushing for this is to get this done in a timely manner and in the best public interest," he said. "Time is of the essence in this process."
During public comment, Santa Rosa Groves resident Elizabeth Accomando, speaking for the residents, thanked the board for considering the improvements.
"This is something we have been waiting for a really long time for," Accomando said. "None of the other boards before you really cared to talk to us, nor did our developer, who sold off his lots."
Accomando said the residents of Santa Rosa Groves cannot go through another rainy season with Carol Street in the condition it is. The area is inaccessible not only for residents, but emergency vehicles, postal delivery, garbage pickup and other services, she said.
"If there's a fire ,they can't get to us," she said, recalling an incident where a resident thought he was having a heart attack during a flood. A helicopter was dispatched to pick him up, and the bill was almost $10,000.
"If we have to go through another rainy season, it's going to be a major issue," she said. "We can't wait another year for a road."
ITID Supervisor Jennifer Hager made a motion to determine that it is in the public's best interest to use district services, employees and equipment to construct Carol Street rather than use a competitively selected private contractor, which carried 5-0.