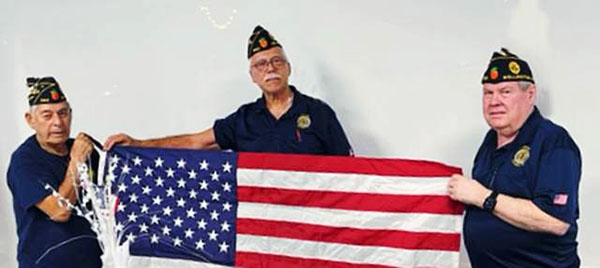 At Wellington's American Legion Post 390 meeting in January, Past Post Commander Jim Napuli asked members for a special request. His son, Major Jason Napuli, was serving in the Middle East on aeromedical evacuation missions.
Jim asked the members of the post to send a card or letter of appreciation to his son during the end of the holiday season. Letters, cards and personal items/goodies were sent as requested, and Jason was overwhelmed by the responses.
Toward the end of February's Post 390 meeting, Jim presented Post 390 with an American flag that was flown on a combat mission in support of Operation Inherent Resolve and Enduring Sentinel aboard a C-17 aircraft. It was flown through Kuwait and Iraq and through the Arabian Gulf, delivering injured and ill Americans to Al Udeid Air Base, Qatar and Landstuhl Regional Medical Center in Germany for additional care.
A Certificate of Authenticity was also presented to Post 390 in appreciation of the caring responses from post members. Major Jason Napuli recently returned safely to the United States.