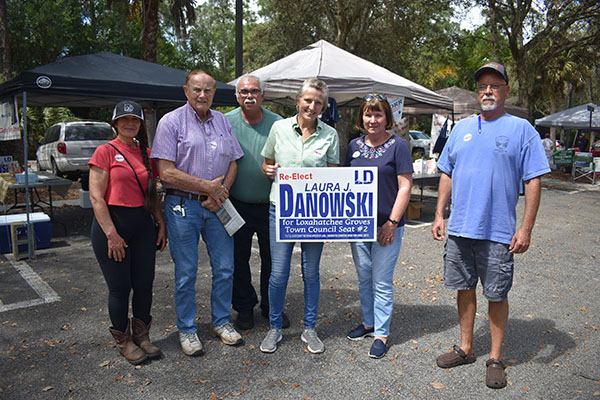 Loxahatchee Groves Town Council incumbents Laura Danowski and Robert Shorr won re-election to their seats Tuesday, March 8 by narrow margins.
According to unofficial results released by the Palm Beach County Supervisor of Elections Office, Danowski defeated former Councilman Todd McLendon in the Seat 2 race by 27 votes, taking 338 votes (52.08 percent) to McLendon's 311 votes (47.92 percent). In the Seat 4 race, Shorr defeated challenger Paul Coleman by just 10 votes, taking 330 votes (50.77 percent) to Coleman's 320 votes (49.23 percent).
Both incumbents were elected to their second three-year terms.
Shorr said it's exciting to have won, even by a small margin.
"Laura and I and the council for three years have gotten a lot of good things done, and a lot more good things are to come," he said. "It's exciting to be able to sit on there and keep moving forward and doing things for the residents and the landowners. Our goal is to build a maintainable infrastructure with roads, drainage and canals. I think in the next couple of years, we can complete that and get in a position where we are just maintaining what we have. Right now, we're just playing catch-up from a 100-year-old water control district."
Shorr said the near future could be complicated, particularly with the volatile price of oil.
"We're going to have to get some new proposals and figure out what we can afford to do," he said, adding that he does not want to put the town in debt. "Right now, that is a good place to be, and we should strive to stay that way, in my opinion. We live within our means."
With the fallout from the war in Ukraine, Shorr said he does not know what position the town will be in when budgeting begins in July.
"Maybe we'll have domestic production up and oil prices coming back down, and we can get back to a relatively normal position, maybe we won't," he said. "Who knows? When the time comes that we start looking at next year's budget, what we can do with the money that we have, we'll have to evaluate the costs."
Shorr said that the town is currently in a good position fiscally and staff-wise.
"We've got more staff out in public works than we've ever had," he said. "We've got more equipment than we've ever had, so we are set up to clean up the canals and maintain them. Our goal right now is to define what we have. We're still trying to define the limits to build the roads and easements. All of that is a moving target to come to agreements with the landowners and the town."
Shorr noted that he has spent a lot of time volunteering for the community and is glad to be able to continue.
"The council isn't just a popular volunteering position," he said. "I really think you need to have some qualifications to be able to see the big picture and be able to understand government, understand finance and understand infrastructure. You need to stand up and move the town in a direction. That's the council's job, and I think we are doing that."
A native of Palm Beach County, Shorr was born at Lake Worth General Hospital, attended John I. Leonard High School and graduated from Palm Beach State College. He also served in the U.S. Navy. His profession is to provide certified state reports for commercial air-conditioning systems. He is married to his wife Francine. They have two children and four grandchildren.
Over the past three years, Shorr served two non-consecutive years as mayor, and he also serves on the South Florida Fair Board of Directors.
Danowski said she is mentally exhausted but happy about the outcome.
"It means that the people of Loxahatchee Groves had the faith and the desire to come out and vote and keep moving the town forward," she said. "It was close, like all of our races are close. I think that's a reflection of all of the other municipalities."
She pointed out that with the town having 1,700 registered voters, and 650 voting, it amounts to a little over a third of voters voting.
As far as policy the next three years, Danowski said she does not know what will come before the council.
"I can say that what is happening nationally and globally is going to impact everybody," she said. "Inflation is going up, so how is that going to affect vendor prices that we have? How is it going to affect fuel for public works or maintenance and replacement parts?"
Danowski, however, is glad that the current council is still intact.
"The fact that all five of us don't always agree on everything, that's OK, but our train of thought is still the same," she said. "I think that will move the town forward because I've watched it, when a council seat changes, or especially when two seats change, so many things come to a grinding halt, and then you have a learning curve of re-establishing priorities and thoughts and what people think is important. Then by year two, you can try and go forward again, but then you have another election. So, I think that having the five of us still on the dais is a good thing for our town."
Danowski manages a 10-acre farm with an equestrian boarding facility. Originally from New York's Long Island, she has lived in Loxahatchee Groves for 14 years. Before her council service, Danowski served on the Loxahatchee Groves Water Control District Board of Supervisors. She has a bachelor's degree in journalism from the University of Maryland.