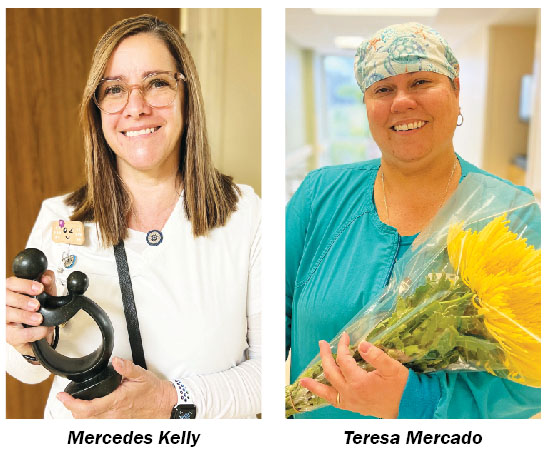 HCA Florida Palms West Hospital has named its most recent Daisy and BEE Award winners.
Mercedes Kelly, a registered nurse in telemetry, was nominated for the national Daisy Award by the daughter of a patient who was in her care.
"She treated my mama as if she was one of her loved ones in the hospital," the nomination stated. "I was so relieved I knew my mom had a family member there to care for her when I could not be at the hospital to advocate for her."
The Daisy Award honors "the super-human work nurses do for patients and families every day," according to the Daisy Foundation. Visit www.daisyfoundation.org to learn more.
Teresa Mercado, a unit secretary, was selected as the BEE Award winner.
"You can hear her smile through the phone," her nomination stated. "She treats patients and their families like her own; she looks out for the well-being and safety of the staff; and she greets everyone who steps foot in the unit with a positive attitude."
The BEE (Beyond Exceptional Expectations) Award is a nationally recognized award that recognizes team members outside of nursing for going above and beyond to care for patients, visitors and each other.