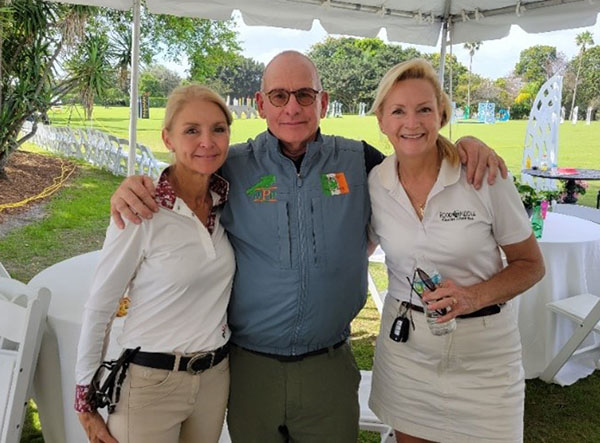 Rood & Riddle in Wellington joined many horse enthusiasts, including several elite riders at the Kevin Babington Foundation Benefit & Auction on Tuesday, Feb. 22. The event featured a 1.45m Grand Prix, an online auction and a reception at Victoria McCullough's Mida Farm.
The online auction raised tens of thousands of dollars for the Kevin Babington Foundation with unique items such as a guitar signed by Bruce Springsteen and the E Street Band, a luxury skybox with catering at a Boston Bruins game and private lessons with some of the sport's biggest names. Rood & Riddle donated $3,000 worth of veterinary services to support the foundation, an item that was won by Darragh Kerins.
The Kevin Babington Foundation Benefit & Auction also featured an inviting 1.45m Grand Prix on McCullough's world-class grass field, with the course designed by Venezuela's Leopoldo Palacios. McCullough added to the festivities with rides on her six-horse Clydesdale hitch and a reception to allow all athletes and guests to share in the auction.
Rood & Riddle in Wellington is also a sponsor of the 2022 Turf Tour. The 12-week series of hunter-jumper horse shows are held at four premier equestrian venues in Wellington during the winter horse show season. Rood & Riddle hosts an informational booth at the series events held at Polo West.
Rood & Riddle began as an ambulatory practice in Lexington, Kentucky, in 1982 and established a full-service equine hospital in 1986. Today the practice is known and respected worldwide for innovative and highly skilled treatment of horses. With the original hospital in Lexington, and locations in Saratoga Springs, New York, and Wellington, Florida, Rood & Riddle maintains an unwavering commitment to quality, both in the care of horses and in relationships with clients.
Rood & Riddle is located at 5320 South Shore Blvd. in Wellington. For more information, call (561) 383-5437 or visit www.roodandriddlewellington.com.