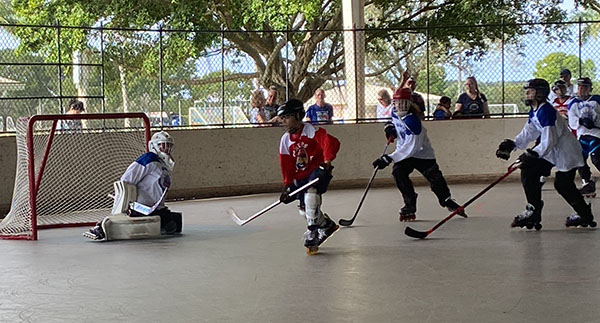 The Wellington Roller Hockey Association recently concluded its season at Village Park. Shown below are capsule summaries from the WRHA championship games.
Prep Panthers 5, Prep Rangers 3 — In the Prep Championship game, the Prep Panthers jumped out to a 2-0 first period lead, with goals by Jameson Quintus (two goals) and Logan Stepp (one goal, two assists). Matthew Taylor (one goal) of the Rangers closed the lead to 2-1 midway through the second period. The Panthers' Christopher Akner (one goal) and Quintus added a pair of quick goals to extend the lead to 4-1 in the third period. The Rangers' Valentino Olivas (two goals) added a pair of goals late in the third period to cut the Panthers' lead to 4-3. Lauren Deguzman (one goal) of the Panthers chipped in a late goal to close out the scoring at 5-3 and help deliver a championship to the Panthers. Goaltender Justin Spina of the Panthers stopped 15 shots in victory, while Hayden Baker made 15 saves for the Rangers, while keeping the game close.
Junior Bruins 12, Junior Panthers 8 — In the Juniors Championship game, the Junior Bruins jumped out to a 5-0 first period lead, with goals from Ethan Hoodack (five goals, one assist), James Warszycki (two goals, one assist) and Ben Schwartz (two goals, three assists). The Panthers came roaring back with four goals in the second period to make the game 7-4 going into the third, with goals from Gelo Gonzalez (three goals, two assists), Tucker Allen (one goal, one assist) and Luc Hanchuk (two goals, one assist). The Bruins and Panthers traded goals in a back and forth third period, with the Bruins eventually coming out on top 12-8 to claim the Juniors Championship. Additional Bruins scoring came from Aiden Ruderer (one goal, one assist), Matt Golbois (one goal) and Zach Santiago (one goal). For the Panthers, Jorge Argaez (one goal) and Matthew Taylor (one goal) also scored. The Bruins outshot the Panthers 44-34. Goalie Jason Hanchuk was stellar in the net, making 30 saves.
Learn more about the league at www.wellingtonrollerhockey.com.