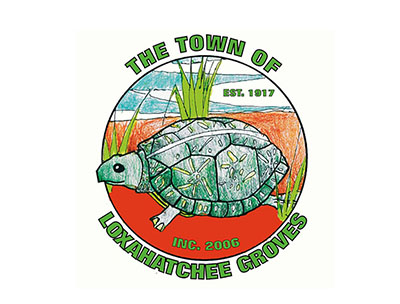 Loxahatchee Groves Town Manager Jamie Titcomb announced his upcoming departure at the Loxahatchee Groves Town Council meeting on Tuesday, April 19.
Although Titcomb joined the town three years ago, his history with the community goes back much further than that. He participated in the town's incorporation process in 2006, providing advocates with valuable information on how to get through the process successfully.
"I am going to the land of private practice and semi-retirement," Titcomb told the Town-Crier before the meeting. "I am going to work on my own priorities, practice and schedule. In other words, I am essentially leaving full-time government management to freelance as a consultant."
In his letter of resignation, Titcomb said he plans to leave his position as town manager on or by June 9, in compliance with the written 60-day notice as required under terms of his employment agreement contract.
"I have greatly enjoyed the challenge working as your town manager, especially in my mission to bring neutral, transparent, process-driven governance operations for town betterment," he wrote. "In a world backdrop of pandemic, politics and professional priorities, it is the right time for me to move on."
Titcomb said he is grateful for town staff and vendors that he works with on behalf of all the community's residents.
"I believe we have made substantial positive headway together since my first arrival here just over three years ago," he wrote. "I am fortunate to have served the town in this unique and transitional period. While the new council year gets settled in with its upcoming priorities, I am confident our excellent, dedicated staff team will continue forward seamlessly to serve in their respective roles to meet town needs and succession of administration."
Titcomb said he would assist in every way possible through the transition to a new manager.
"At this unique point in history, the town is poised to advance effectively in its service delivery, communications, critical infrastructure upgrades and quality of life amenities on the drawing boards for our residents," he added.
At the meeting on Tuesday, Titcomb said he was confident that the town would continue to thrive without him. "I know that the news creates some extra work on everybody's behalf, but I want to say thank you for working with me over the past three-plus years, in spite of our often-animated debates on various issues," he said. "I give you credit for actually getting along and getting more done than you give yourselves credit for."
Titcomb said that there are now a number of productive people working at town hall, as well as systems and initiatives in the works that will serve the community well.
"I am sorry for any disruption I have brought to the community, but I feel that we have made the kind of progress on what I thought my mission coming here was, to stabilize, neutralize and make more transparent and more apolitical the community as a whole," he said. "I think you guys have done some great work together, even though you keep gnashing at times."
Town Attorney Elizabeth Lenihan said she would put together a job description with qualifications and salary range to prepare a request for qualifications for a new manager by the next meeting.
"We will bring information from surrounding communities, and we will make sure we have staff who can put this together internally," Lenihan said.