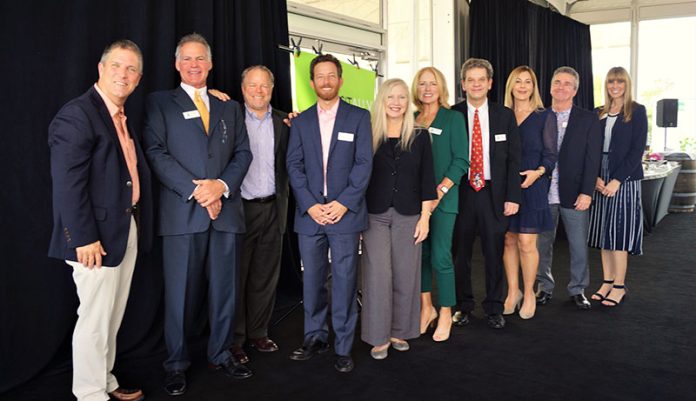 By Melanie Kopacz
The Wellington Chamber of Commerce hosted its annual installation luncheon on Wednesday, March 23 at the Palm Beach International Equestrian Center, now known as Wellington International.
Wellington Mayor Anne Gerwig presided over the oath of office for the new board, including incoming President Scott Sweigart, immediate Past President Kevin Shapiro, Secretary Jodi Gast, Treasurer Stuart Hack, and directors Lisa Banionis, Peter Bartuska, Dermot MacMahon and Roxanne Stein.
Shapiro was praised for his leadership and support during a period of growth.
"Kevin gave us opportunity and flexibility to power forward," Executive Director Michela Green said. "He never said no to any initiative and has been a tremendous asset, a crucial sounding board and a tremendous leader."
Shapiro said that he intends to remain a leader within the chamber. "I still want to hear from each of you, ideas, interests and what we can do to make you a success," he said.
Sweigart said he's looking forward to the unique challenges and plans to continue to grow membership.
"My goal is to grow our membership substantially. With a solid infrastructure already in place, we can manage a larger investment of members while maintaining our boutique chamber feel," he said.
About 100 chamber members filled the Wellington Club for the event while taking in an impressive show jumping competition. The luncheon was sponsored by new Wellington-based digital marketing agency, DigitAlly.
New chamber members were introduced with a ceremonial ribbon cutting, including Gary Ross of Allies in Leadership and William Sauers of Merrill Lynch Wealth Management, along with renewing member Christina Ortado of Floor Specialists of Wellington.