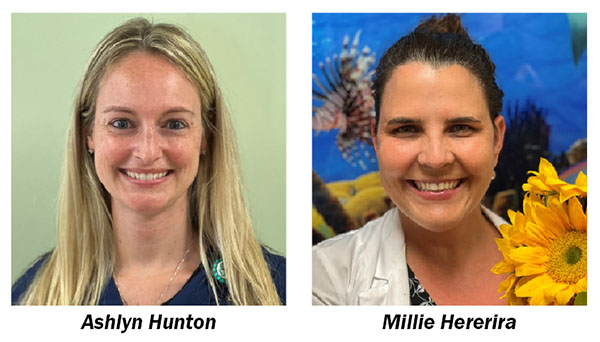 HCA Florida Palms West Hospital recently recognized two of its outstanding healthcare heroes with its bimonthly Daisy and BEE (Beyond Exceptional Expectations) awards that recognize nurses and support staff members who go above and beyond to care for patients, visitors and each other.
This latest Daisy winner is Ashlyn Hunton, a nurse in the hospital's ICU. Hunton's care and compassion were noted in her nomination.
"She's professional, discrete and truly cares about the family. She listens, processes and responds. She is an angel and an amazing human being and an excellent nurse," the nomination stated. "Ashlyn is rock-steady around her patients, utilizes her resources wisely and expediently and methodically."
This month's BEE winner is Millie Hererira, a pediatric social worker in the New Life and Children's Center of the hospital.
Hererira was nominated by a colleague.
"Here at Palms West Hospital, our patient promise is the commitment to excellence always: every action, every patient, every time. Millie embodies our promise through her professional expertise, endless compassion and eternal ability to problem solve," the nomination stated. "Millie achieves this balancing act with patience and grace, ensuring that every patient/family she works with is changed for the better. Millie approaches each case with empathy, compassion and knowledge. Millie is someone who anticipates problems, small and large. She is not deterred by obstacles; Millie will find a way through to a solution."
The Daisy Award is a nationally recognized distinction that honors "the super-human work nurses do for patients and families every day."
The BEE Award is also a nationally recognized award that honors team members outside of nursing for going above and beyond to care for patients, visitors and each other.