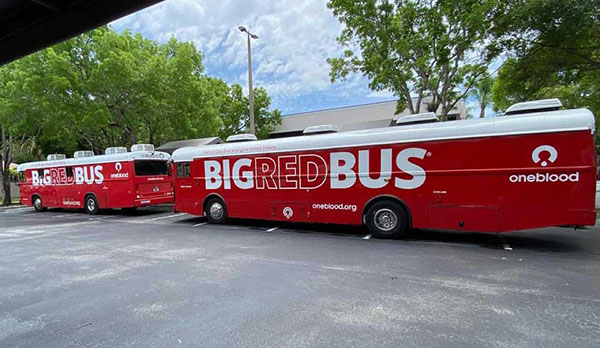 Keller Williams Wellington will hold its annual "Red Day" blood drive on Thursday, May 12, and the community is invited to participate by visiting the Keller Williams office at 1400 Corporate Center Way in Wellington between the hours of 9 a.m. and 4 p.m. Drinks and snacks will be available to those who donate.
Keller Williams Red Day is an annual tradition among the office's 235 agents, as well as Keller Williams offices around the world. All of the offices shut down to give back to their communities by donating blood, platelets and plasma. The company sets aside the second Thursday of May each year to host this massive blood drive, in association with OneBlood, a nationwide blood drive organization.
OneBlood sends out huge red buses for each event to make sure it's obvious where Red Day is taking place. Everyone is encouraged to donate, though you must be at least 16 to begin donating, or have a parent/guardian with you. The blood drive is open to anyone who fits those requirements, and the whole community of Wellington is encouraged to stop by.
There are different types of blood donations that OneBlood offers. The first are whole blood donations, the most common type, where blood is drawn for use of every component in the blood. The second is double red cell donation, where only red blood cells are taken from the donator through a method called automation. During automation, the donated blood is placed into a centrifuge, a device to quickly spin and separate the blood into its individual components. The third kind is a platelet donation, which greatly benefits cancer patients going through chemotherapy. By using the extra blood platelets, which are specialized cells used to heal other blood cells, these patients are aided in their fight. Finally, the fourth type of blood donation is a plasma donation. This is used primarily to help those who are anemic or are having a hard time getting their blood to clot on its own.
Last year, Red Day helped save more than 111 lives with the blood that was donated. This year, event organizers hope to beat that figure by expanding awareness throughout the community of this worthy endeavor.
For more information, call Keller Williams Realty Wellington at (561) 472-1236 or visit www.kwwellington.com.
Read all about last year's event at www.kwwellington.com/blog/keller-williams-wellington-red-day-2021.