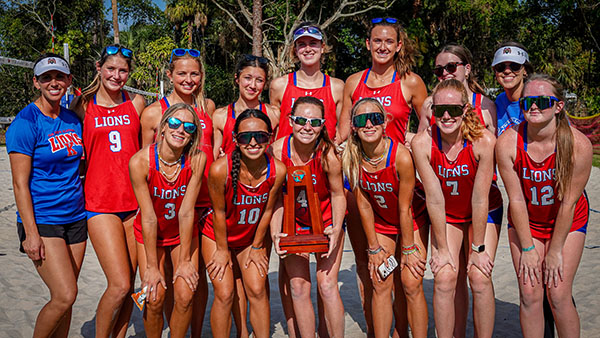 The King's Academy girls varsity beach volleyball team is headed to Tallahassee with eyes on a state championship. This is the first year that two-person beach volleyball has been officially sanctioned as a varsity sport by the Florida High School Athletic Association (FHSAA).
To date, it has been a memorable season for the Lions. The team has a sparkling 17-1 record going into Friday's round of 16 single-elimination games in Tallahassee against the Vero Beach Indians, which have a 12-1 record. That match is slated to begin at 2 p.m.
If TKA wins, the Lions play their next match at 6 p.m. against either St. Thomas Aquinas of Fort Lauderdale or Westminster Christian of Miami. The winner of the Friday night match will advance to the state final four on Saturday.
To win a state championship title, TKA must win four matches over two days — two on Friday and two more on Saturday. The matches are being contested on Florida State University's beach volleyball courts on the FSU campus in Tallahassee. The team traveled to Tallahassee on Thursday, May 5 in order to be ready to play on Friday, May 6.
According to TKA head coach Rachael Perla, she is looking for leadership on and off the sand courts from junior Kate Taylor and senior Ava Fountain.
"Kate is one of my team leaders," Perla said. "She is my most vocal player. She will put the team on her back and will us to victory."
"Ava is a great defender, great setter and a very consistent player," Perla added. "She leads by example."
One highlight of the season to date was TKA's victory against Wellington High School to win the Class 1A, District 27 title in late April.
Win or lose in Tallahassee, Perla has enjoyed the inaugural year of varsity-level competition in beach volleyball.
"I was blessed with a great team this spring," said Perla, who played college volleyball at Palm Beach Atlantic University in West Palm Beach.