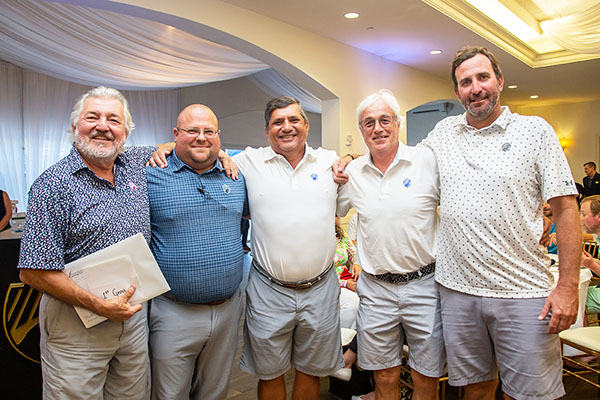 The Palm Beach Symphony raised nearly $60,000 with its recent Swings For Strings event at the Wellington National Golf Club, making it the nonprofit arts organization's most successful golf tournament to date.
"I thank you all for your support. It is a spectacular addition to a season in which we broke all records for membership, subscription and attendance," Palm Beach Symphony CEO David McClymont said at the event. "The clubs you have in your hands today will translate directly into instruments we will put in the hands of deserving students and music programs throughout Palm Beach County."
The Swings for Strings tournament began with a team scramble. The Wellington National team of Doug Marty, Dan Navarrete, Mike McDermott and Lou Bartoletti was recognized for first place gross with the Casa Branca team of Andrew Uihlein, Nilow Ragazzi and Andrew Pataki taking second place honors.
Barry Schwarz, Scott Trachtenberg, Scott Rubenstein and Aaron Brask playing for the ADA Site Management team and Jerome Trautschold, Joe Fusco, Pierre Debbane and Robert Lichten of the Jerome Trautschold team won first and second place net, respectively.
Three golfers also made the scoreboard, as Nacho Lezica of team Wellington International and Michelle Enriquez of team HSS Florida won Closest to the Pin, and Ed Slade of the William Schneider team took home honors for Longest Drive.
Immediately following the tournament, guests enjoyed an outdoor barbecue and cocktail party.
As night began to fall, members of Young Friends of the Palm Beach Symphony arrived to join the golfers for a reception featuring a silent auction in which guests vied for items including a four-night stay for two at Casa de Campo and an exquisite, one-of-a-kind painting of Dustin Johnson by Kyle Luck.
Swings for Strings was chaired by Palm Beach Symphony Board Member Todd Dahlstrom, who also serves as chair of the Young Friends of the Palm Beach Symphony. He enjoyed the support of an active committee, including Sean Burnett, Thomas D'Agostino, Michael Enriquez, Michael Gottsegen, Peter Gottsegen, Charles Hanna, Allan Kennedy, Elizabeth Marshman, Doug Marty, Mike Melim, Tyler Moynihan, Norman Oblon, Michael Pumo, Luba Randall, Kimberly Reckley, Burton Rocks, Lawrence Rocks, Brian Smith, Cary Stamp, Ryan Swenson and Trent Swift.
HSS Florida and Wellington National Golf Club were the principal sponsors of the Swings for Strings tournament. Orchestra musician sponsors were Chervo, CIBC Private Wealth, PNC Private Bank and Wellington International. Hole sponsors were ADA Site Compliance, Cary Stamp, Casa Branca, Fox Rothschild LLP, Peter Gottsegen, Malvern Bank, and William and Nancy Schneider. Burton Rocks, Palm Beach Design Masters, Deutsche Bank and SmartSource were tournament underwriters.
For information on how to become a member and supporter of the Palm Beach Symphony, visit www.palmbeachsymphony.org.