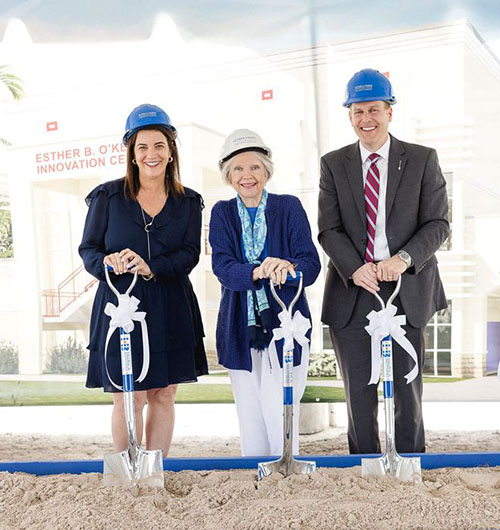 The King's Academy broke ground on an important new addition to its campus on Wednesday, April 20 — the Esther B. O'Keeffe Innovation Center. The new learning center will be a two-story, 12,000-square-foot home to the Smith Family Conservatory's growing digital arts program and business program of distinction. It will also house two computer and technology labs, as well as elementary classrooms for science, STEM, world languages and the school's Explore gifted program.
Once complete, this building will be utilized by hundreds of elementary and high school students each day, who will be receiving cutting-edge instruction to compete in an increasingly complex world. The Esther B. O'Keeffe Innovation Center will be outfitted with state-of-the-art technology and equipment.
The building is a tremendous gift, as it will allow TKA to continue to manage class size while welcoming record enrollment, thanks to generous benefactors like Clare O'Keeffe.
"I am grateful for the many years of generous friendship and extraordinary support to me and TKA," President Randy Martin said. "Miss O'Keeffe and the Esther B. O'Keeffe Charitable Foundation have supported important projects, like the Page Family Center for Performing Arts, the O'Keeffe Pre-Law Studies Program, the Frank DiMino Student Union, and now this state-of-the-art innovation center. She has made a tremendous impact in the lives of our students."
The Esther B. O'Keeffe Innovation Center will be a unique and exciting addition to campus. Student learning in this building will transcend the traditional classroom and provide many experiential opportunities. Esther B. O'Keeffe was known for her support of the arts and education. It is exciting and fitting that the groundbreaking ceremony was held on April 20, her birthday.
The Esther B. O'Keeffe Charitable Foundation was established in 1990 by the late philanthropist Esther B. O'Keeffe, wife of the respected surgeon and philanthropist Dr. Arthur O'Keeffe. The children now carry on the family's charitable tradition by serving as trustees of the foundation, which supports a broad spectrum of entities, including the arts, education, cultural programs and medical research.
The King's Academy is a private Christian school in its 52nd year, serving more than 1,500 students from junior kindergarten through 12th grade and three preschool locations. Its main campus is at Belvedere Road and Sansbury's Way. More information, visit. www.tka.net.