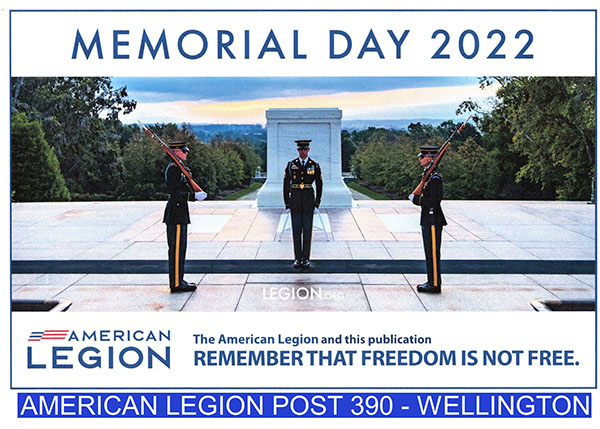 Wellington and Royal Palm Beach will be holding special events to mark Memorial Day on Monday, May 30.
The last two years saw scaled-back versions of Wellington's Memorial Day events, but this year the village will once again host both its traditional parade and ceremony.
"We're happy to see the community out and be able to support our local veterans and family members who served, or gave their life for us," Assistant Community Events Director Michelle Garvey said. "We're glad we can present something to honor their memories and their service."
The Village of Wellington, along with American Legion Post 390, will host the parade and ceremony starting at 8:15 a.m. The Memorial Day Parade will begin at the Wellington Municipal Complex at 12300 W. Forest Hill Blvd. and end at the Wellington Veterans Memorial at the corner of Forest Hill and South Shore boulevards. The Memorial Day Ceremony will begin right after the parade at 8:30 a.m.
"Our event usually doesn't last more than an hour, and we do that on purpose, so that veterans can make it to other ceremonies in the area," Garvey said.
Former Wellington Mayor Tom Wenham, a member of American Legion Post 390, will be presenting the keynote speech, where he will be honoring Base Commander/Wing Commander Col. Sherman Beaty and Medal of Honor winner Capt. John Walmsley, who respectively were designated Missing in Action, Presumed Dead in 1953 and 1951.
"The two people who I'm honoring were members of the Eighth Bomb Squad, Third Bomb Group, Third Bomb Wing of the Fifth United States Air Force," said Wenham, who served in the Korean War. "It's not just those two… it's the 101 of the Eighth Bomb Squad."
He's proud to have the opportunity to honor those who are Missing in Action, Presumed Dead. "I was part of the unit they were significant in. We all served together," Wenham said.
Active military or retired veterans who would like to be recognized during the ceremony can contact Garvey at (561) 791-4082 or register the morning of the event.
Royal Palm Beach will hold its Memorial Day Service at 9:30 a.m. at the Veterans Park Amphitheater, located at 1036 Royal Palm Beach Blvd. Overflow parking is available at Lindsay Ewing Park with a shuttle to the ceremony.
This year's ceremony will have the same format as previous years, Royal Palm Beach Cultural Center Event & Facilities Manager Steve Poyner said, with Mayor Fred Pinto providing an introduction and welcoming remarks.
There will be the laying of the wreath, a 21-gun salute, a battle cross presentation from the American Legion Honor Guard 11th District, a fallen soldiers' tribute, a bagpipes presentation, and closing remarks and prayers.
The three guest speakers this year will be Johnny Castro, Hartley Barnes and Traci Caicedo.
"Both of my parents served in the Air Force, so I've always had veterans close to my heart," Poyner said. "It's a privilege of mine to be able to help host and run this event."
To add the name of anyone killed in action, call (561) 790-5196 or (561) 790-5192 with their name, rank and branch to be recognized during the Royal Palm Beach ceremony.