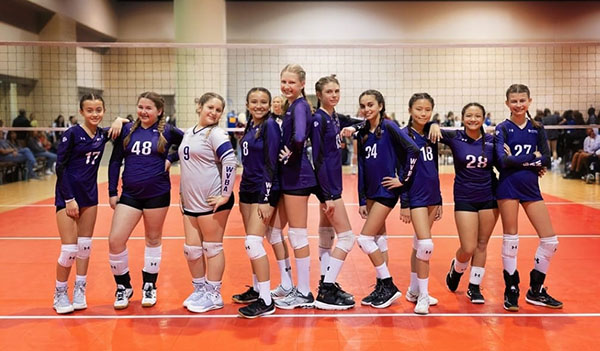 The Wellington Volleyball Academy 12U Purple Elite Team recently qualified for the 2022 USA Volleyball Girls Junior National Championship.
The team features several players who were born and raised in Wellington. A total of 10 girls from the local community have made it to the tournament, which will be held in Indianapolis, Indiana, from June 22 through June 26.
It is the first time in history that a local youth volleyball team from Wellington has made it to nationals. The team is ranked fourth in the state and 64th in the nation with a 94 percent winning percentage.
Team members include Sophia Bui, London Gingras, Abigail Chin Lee, Natalia Marciante, Nicole Martinez, Mikayla Matuszko, Madison Moore, Brianna Nahmod, Sophia Rutigliano and Madison Seick.
The Wellington Volleyball Academy is a competitive volleyball club located in Wellington. The club consists of teams ranging from 10 to 17 years of age. The teams are made up of passionate volleyball players who set goals and achieve them.
The team is hoping to raise more than $20,000 over the next seven weeks to assist with the travel expenses, as they are estimated to be approximately $2,000 per child. Sponsorships are available.
The Wellington Volleyball Academy is a nonprofit organization, and sponsorships are tax deductible.
Anyone interested in helping out can e-mail michael.wvba@gmail.com for sponsorship opportunities. Learn more about the team at https://online.anyflip.com/xzzrg/osyn.