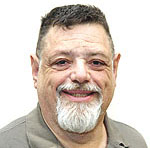 'I' ON CULTURE
As in most Baz Luhrmann films, Elvis demonstrates that nothing succeeds like excess. This is not a biography of "the king" except in the broadest sense. What we have is a sort of slap-dash group of scenes designed to bring back memories (or in the case of younger audience members, create them) of the great singer's quick rise and almost meteoric fall. To add to the confusion, the story is narrated by the film's villain, the man who called himself Colonel Tom Parker (Tom Hanks), who was also Elvis' manager. What helps the movie is that rather than making himself the hero, Parker instead becomes an off-the-wall villain.
There really is not much of a plot. The real story is complex; Elvis, following in a line of mostly black performers, brought "soul" to the general population in a raw, sensual way that broke through the racist mores of the time. Although the film does touch on some of this, particularly in scenes between Elvis (Austin Butler) and B.B. King (Kelvin Harrison Jr.), the film quickly moves beyond the early days into the army years, the movie years, the collapse and the comeback, ending with the tragic ending. But everything moves so fast there is never time to really think about so many possible turning points.
Many of the early elements are overdone. The scene where Presley first starts gyrating, which turns a skeptical teenage audience into literally swooning fools, borrows more from Beatlemania than truth. It took Elvis time to become established in even the smaller sense, and his earliest moving in time with the music was far more muted than shown. But Luhrmann wants to keep the show rolling. There are many scenes, far more than really should be necessary, with Parker, a former carnival backer who didn't really like music much, interfering in Presley's career. One of my favorites was the decision when creating the Blue Hawaii music album to leave out a song or two that "really wasn't all that good." One they left out was Can't Help Falling in Love (With You), a major staple of the Elvis repertoire.
But things were moving too fast. We see his marriage to Priscilla (Olivia DeJonge), done basically to cover up his wild ways with women. And then we move on to the drug years. Finally we see the leather-wearing jumpsuit Elvis, who reestablished himself for several years before his death. All the scenes are impressive, but held together by a sketchy narrator.
Butler is incredible as Elvis, playing him both as a young man and the later wreck he became. He is so good that even for many of us who followed Elvis throughout his career, he seems to embody the singer. Hanks, on the other hand, while demonstrating his ability with far-out weird comedy, only pulls down the picture. He is shown wearing prosthetics (hardly necessary since almost no one remembers what Parker looked like) and using a weird accent. Parker was born in the Netherlands and did have an accent. The Parker name was simply to confuse immigration agents.
The problem with all of this is that because of Hanks' star power, there is far more focus on Parker and his relationship with Presley than is actually good for the plot of the film. Most of us want a focus on Elvis. I would have enjoyed more time on his early years; how his star power opened the way for Black performers, who up to that time created great work only to have white performers then record the work and reap great rewards. Elvis never hid his connections, although Parker tried to block them off.
This is a fun movie, however. You can't really go wrong with all those great Presley songs. Some were sung by Presley, some by Butler, and some by others. But so many became part of the songbook of our lives. This is a good film for reminiscing, although its weaknesses are very visible. But if you loved Elvis, or if you're simply interested in his life, this film is definitely for you.