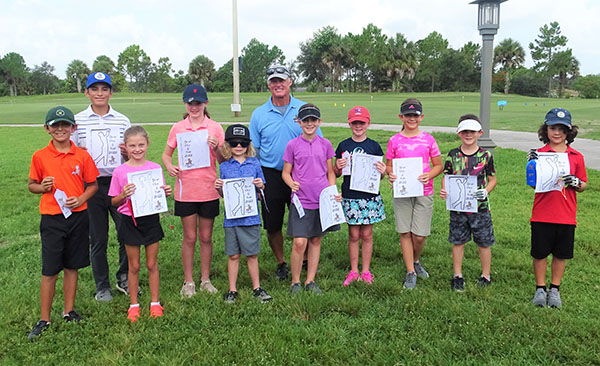 On Friday, June 10, a total of 10 junior golfers affiliated with Beaver Golf in Royal Palm Beach competed in this year's local qualifier for the Drive, Chip and Putt national junior golf competition, which is sponsored by the Masters Golf Tournament.
This year's local qualifier for Drive, Chip and Putt was held at the Falls Club of the Palm Beaches in Lake Worth. Of Beaver Golf's 10 junior golfers who participated, three advanced to the next level of this skills competition, the sub-regional round, which will be held on Saturday, Aug. 27 at the Old Marsh Golf Club in Palm Beach Gardens.
Those three individuals from Beaver Golf, based in Royal Palm Beach at the Commons Park Learning Center, who advanced are Abriella Morrison (girls, ages 7-9), Amelia Mayer (girls, 10-11) and Mateo Muñiz (boys, ages 10-11). Morrison of Wellington finished second overall in her age group. Mayer of Royal Palm Beach was third overall, while Muñiz from Wellington was also third overall in his age group.
Four of the local junior golfers received skills ribbons in recognition of their efforts — Blake Mayer of Royal Palm Beach, Xander Trivlis of Delray Beach, Sofia Mayer of Royal Palm Beach and Marina Sterijevski of Delray Beach.
There are five age groups for both boys and girls in the Drive, Chip and Putt national junior golf competition: ages 7-9, ages 10-11, ages 12-13 and ages 14-15.
The overall goal for each participant is to qualify for the 2023 Drive, Chip and Putt national finals, which will be held at the Augusta National Golf Club in Georgia on Sunday, April 9, 2023. The 2023 Masters will start four days later on Thursday, April 13.
Morrison, Amelia Mayer and Muñiz hope to qualify for the third qualifying round of the competition, which will be the regionals held on Sunday, Oct. 2 at the Bear's Club in Jupiter. The top golfers at the regionals will qualify for the national finals next April.
Coach Glen Beaver was impressed by the performances of his 10 competitors.
"When I first learned that so many were planning to compete, I was incredibly humbled," Beaver said. "I can only hope that my students are developing the confidence to step out of the comfort zone of class and play on some level, and when they do, I feel extremely blessed that I get to do what I do. I was teaching, so I could not attend the event, but I was told that the golfers and their families enjoyed the experience, and they were happy to stay after their tee time to cheer on one another."
One of the local parents was pleased about the children from Beaver Golf getting a chance to experience a form of organized competitive golf. "This was a great way for them to get a taste of competition on a small stage," said Stefanie Mayer, the mother of three of the local junior golfers, Sofia, Amelia and Blake Mayer.
Beaver Golf teaches golf to more than 100 children a week, many of whom are home schooled. Its goal is "to make golf accessible to anyone." Learn more at www.glenbeavergolf.com.