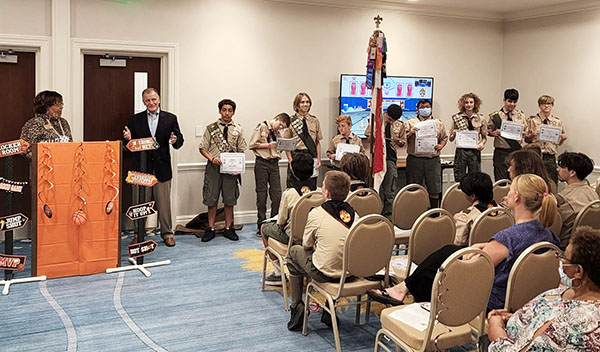 Royal Palm Beach Troop 111 held a Court of Honor on Tuesday, May 24 at the Royal Palm Beach Cultural Center. The celebration, led by Senior Patrol Leader Noah Cabrera, marked the achievement of scouts who earned rank advancements, as well as merit badges such as Plumbing, Citizenship in the Community and Camping.
The troop welcomed a new scout, acknowledged parent volunteers, received awards, and recognized its newest Eagle Scout, Sam Johnson. Troop 111's charter organization, CAFCI, issued certificates recognizing scouts for community service at the recent Cultural Diversity Day hosted by CAFCI and the Village of Royal Palm Beach.
The traditional "passing of the staff" ceremony occurred as outgoing Senior Patrol Leader Noah Cabrera turned over leadership of the troop to new Senior Patrol Leader William Hicks.
The ceremony concluded after Scoutmaster Ryan McNally shared a powerful message of leaving a legacy that enriches and improves the community and the world.