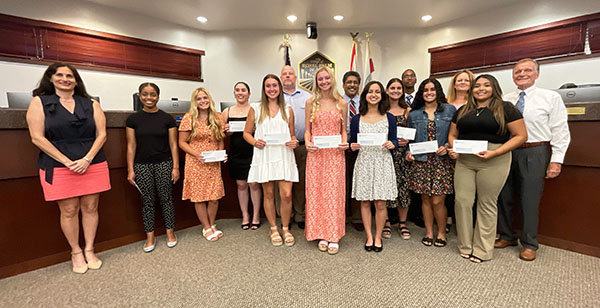 On Thursday, May 19, the Royal Palm Beach Village Council presented $1,000 scholarships to 10 local high school seniors. The award recipients were celebrated individually and acknowledged for their achievements. Prior to the recognition, State Rep. Matt Willhite addressed the winners as a group on behalf of himself and State Sen. Bobby Powell.
"We just want to say congratulations to the recipients tonight, and if you want to get involved in government, please reach out to any of our offices," he said. "We can offer community service hours or assist you in anything because it is important. You are the future leaders of our community. So, thank you for the work you are doing and congratulations."
The Royal Palm Beach Education Advisory Board interviewed all the applicants before choosing the 10 students to receive the scholarships.
"This is one of the happiest days of the year for me, for all of us, to get a chance to acknowledge the wonderful accomplishments of some terrific students," Mayor Fred Pinto said. "We know the students wouldn't be able to achieve what they achieve if it wasn't for their parents being right behind them to guide them and help them to get the things done that need to be done."
Alexandra Agate will study at Florida State University and plans to have a career in crime scene investigation. Jelianys Burgos graduated with 3.9 GPA and will attend the University of Florida. She is majoring in health sciences and has a goal to become an orthopedic doctor. Kenneth Cius attended the G-Star School of the Arts and will take his passion for community service and photography to the University of Chicago, where he will major in linguistics. Jasmine Gutierrez has been in Palm Beach County Fire-Rescue's cadet battalion since the ninth grade and will attend Barry University to complete her EMT training.
Seminole Ridge High School graduate Jenna Kercheville is a competitive weightlifter who plans to pursue a career in nursing. Ella Leisure is an RPBHS grad slated to attend FSU to study criminology. Zoe McCrae is currently enrolled at the University of Miami where she studies medicine. An RPBHS graduate, she has the ultimate goal of becoming a pediatrician. This year's RPBHS valedictorian, Ana Ojeda will attend UF and double major in nutritional sciences and business administration.
Maddison Stegall graduated from Berean Christian School where she played varsity soccer, cross country, track and swimming. She will attend Florida Gulf Coast University to pursue a major in psychology. AICE graduate Jessie Tucker from RPBHS will double major in psychology and family and child science at FSU. She plans to become a child therapist or school psychologist.
"The quality of the applicants is only exceeded by their enthusiasm, optimism and their view of the future, which, by the way if you ever want to know an uplifting experience, come to one of those interviews. It is really just that," Councilman Jeff Hmara said. "Congratulations to all the recipients."