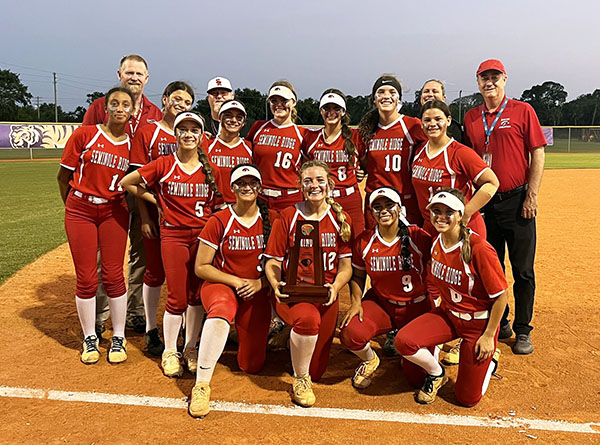 The Seminole Ridge High School girls softball program is on the rise, and the immediate future of the program looks very promising.
For the second straight year — and the third time in school history — the girls varsity softball team captured the district tournament title. The previous district title was in 2013.
This year's team, which had a 15-10 record, ended its season at the Florida High School Athletic Association's (FHSAA) Class 6A quarterfinals on May 12 when the team lost 9-0 to Viera High School, but the season was filled with superlatives.
"It is a pleasure coaching Seminole Ridge softball, and these girls deserve all of the recognition for their hard work," said Candace Horton, the head coach of Seminole Ridge's varsity girls softball team.
With no seniors on this year's team, next year's team is expected to be better than this year's squad. "Everyone is coming back," Horton said.
With a team sporting no seniors, Horton knew that this season would be a year of growth and learning.
"This was season one of our two-season plan," Horton explained. "The girls understood this season was going to be tough, and that they needed to learn everything they could from each game, whether they won or lost, and how to adjust so that next season they can capitalize on everything they have learned about their opponents and themselves."
The biggest wins of the year were in the post-season, specifically in the Class 6A, District 12 tournament, particularly the 3-1 semifinal victory over William T. Dwyer High School on May 3.
"The district tournament semifinal was a huge win, as the girls were working hard to be back-to-back district champions," Horton said. "We were seeded very low in our district, so we had to knock off the No. 1-seeded William T. Dwyer Panthers to get to the championship."
Two days later, on May 5, in the District 12 championship game, Seminole Ridge defeated Olympic Heights High School from Boca Raton 4-0 to claim this year's District 12 title, its second district title in as many years.
Despite a winning regular season record and the second straight district title, Horton's memories of this year's squad are connected to the team's collective attitude.
"This team has a ton of personality," Horton said. "I think every time I look into the dugout or our locker room, there is a new 'rally-cap' item and definitely a whole lot of glitter! The side eyes I get from the girls as they anxiously wait to see if I will be OK with it is one of my favorite things. And as soon as they get the nod to have fun, boy do they bring the fun!"
As Horton begins thinking about next year's softball team, the core of the 2023 team will be this year's statistical leaders, such as sophomore Grace Rawn, who hit .405 with 10 stolen bases; sophomore Hailey Vassalotti, who hit .478, had 27 RBIs and slugged five home runs; sophomore Isabella Martinez, who hammered three home runs; junior pitcher Lindsay Ogden, who recorded 88 strikeouts in 70 innings pitched; and junior Elena Rado, who had 42 put outs and 22 assists at second base.