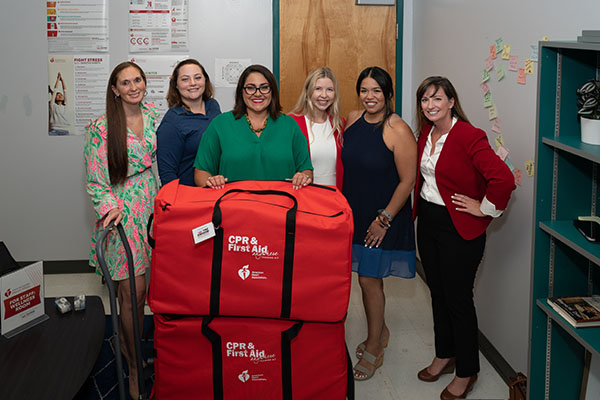 Tire Kingdom Service Centers, a leader in the automotive aftermarket space with more than 200 stores throughout Florida, worked alongside the American Heart Association (AHA) to provide CPR equipment to Royal Palm Beach High School during National CPR and AED Awareness Week held June 1-7.
Tire Kingdom partnered with the AHA, an organization that has been fighting heart disease and stroke and helping families and communities thrive for nearly 100 years, to donate two CPR training kits.
These kits will be used by educators, school nurses and student leaders to not only train groups of 10 to 20 students at once, but can also be used to extend lifesaving training to parents, volunteers and community members.
"CPR can double or triple someone's chance of surviving cardiac arrest," said Stacey Comerford, vice president of development for the American Heart Association of Palm Beach County. "The majority of cardiac arrests that happen outside of a hospital, happen at home. That's why we're so passionate about training people of all ages to provide CPR, because it not only enables them to save lives out in the community but also to potentially save the lives of their family members in an emergency."
The CPR in Schools Training Kit enables students to learn the lifesaving skills of hands-only CPR in as little as 30 minutes. Plus, it teaches AED use and choking relief, creating more qualified lifesavers in our communities and ultimately safer communities. The importance of CPR training has also been recognized across the country, as 39 states now require student CPR training as a graduation requirement. The program is an enhancement to the current health and physical education curriculum.
"To have these CPR training kits is so important," Principal Michelle Fleming said. "It's really an honor to be able to train our students to save lives in an emergency situation."
Royal Palm Beach High School, part of the School District of Palm Beach County, is dedicated to meeting the holistic needs of all students. In August, Tire Kingdom also unveiled a wellness area at the school to improve mental and physical health for teachers, faculty and staff, enabling them to continue to provide the best support for students.
"We are honored to once again partner with the American Heart Association and Royal Palm Beach High School in our efforts to build a culture of health and wellness," said Brian Maciak, chief compliance officer at TBC Corporation, the parent company of Tire Kingdom. "This relationship over the past year has allowed us the opportunity to provide essential tools to educate and engage students and faculty while inspiring them to make lasting changes for their heart health."