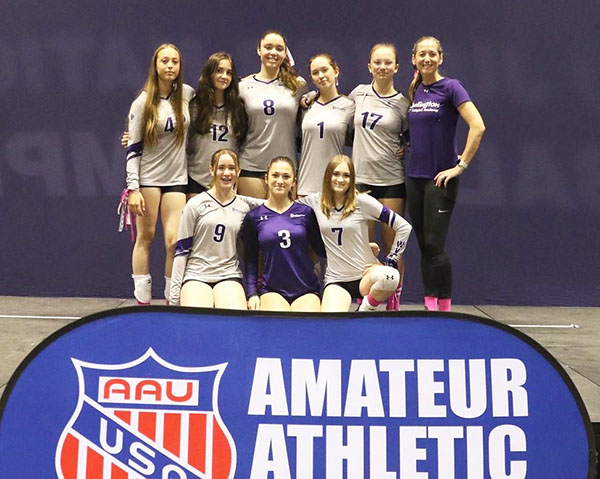 The Wellington Volleyball Academy's girls 15U squad recently returned from a magical trip to Orlando, but it didn't include a visit to Disney World. Instead, the squad of 10 players competed in the Amateur Athletic Unit (AAU) Junior Nationals.
This national competition, which attracted teams from 48 states and Puerto Rico, was held at the Orange County Convention Center. For all 10 players, it was their first-ever trip to the AAU Junior Nationals. Chances are strong that it will not be their last.
From June 19-22, the team from Wellington played eight games against teams from Puerto Rico, Minnesota, Illinois and Georgia. While the team was only able to win two of its eight matches, every contest was competitive.
"We were so close in many of our losses, but the team definitely improved throughout the tournament," said head coach Jen Buerkle, who also coaches girls volleyball at Berean Christian School.
Participating in the AAU Junior Nationals was the culmination of a season that started last fall.
"Since November, we have played tournaments in Tampa, Orlando, Fort Lauderdale, Daytona Beach, Deerfield Beach and here in Palm Beach County," Buerkle said.
Two of the top tournament players for the girls 15U team were Carley Treanor and Lily Young.
Treanor, who plays volleyball at Wellington High School, is primarily an outside hitter, while Young, who plays volleyball at Berean, plays middle.
"Carley never left the floor," Buerkle said. "She had scabs all over her arms from diving for the ball. And Lily had one game with six blocks and another game with six kills, which are really good accomplishments. Both players definitely led by example."
In addition to giving the girls a venue to decide which are some of the best volleyball teams in the country, the national tournament was also a platform to draw attention to those who have battled breast cancer.
According to Buerkle, day two of the tournament was Breast Cancer Awareness Day, so the team from Wellington used the occasion to wear pink socks on the court and pink ribbons in their hair.