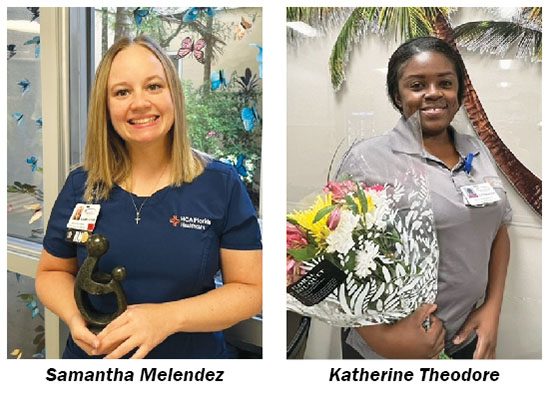 HCA Florida Palms West Hospital recently recognized two of its outstanding healthcare heroes with its bimonthly awards that honor nurses and support staff.
This month's Daisy winner is nurse Samantha Melendez. Melendez's professionalism and dedication were recognized in her nomination by patients and patient family members.
"I think Samantha should be considered for this special honor due to her professionalism, caring and overall attitude about her job, coworkers and the patients she served," the nomination said. "Samantha is an amazing asset to your facility, and we'd all be better off if we had more nurses like her."
"[There are] not enough words to express how professional, compassionate caring nurse she was with my concerns," added a second nomination. "Samantha has been amazing with our family."
This month's BEE winner is Katherine Theodore from the Food and Nutrition Services department. In her nomination by a colleague, Theodore's service was most notable.
"She is always very helpful and very pleasant no matter how busy she is. She goes above and beyond to meet your needs," according to her nomination. "She's the best! We always look forward to our break times with Katherine working in the cafeteria. I've never seen her mad, and she'll always ask, 'How's your day going?'"
The Daisy Award is a nationally recognized distinction that honors "the super-human work nurses do for patients and families every day," according to the Daisy Foundation.
The BEE (Beyond Exceptional Expectations) Award is also a nationally recognized award that recognizes team members outside of nursing for going above and beyond to care for patients, visitors and each other.