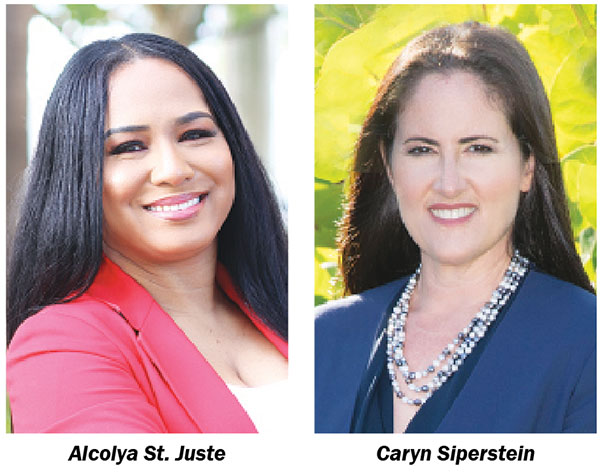 While high-profile races such as those for governor and congressional representatives dominate the headlines, elections also decide officials for other important parts of everyday life, including who sits on the judicial bench. On Tuesday, Aug. 23, voters will choose a new judge for the Group 23 seat on the Palm Beach County Circuit Court. Two well-known attorneys, Alcolya St. Juste and Caryn Siperstein, are vying for the seat.
Vote-by-mail ballots have already gone out, and early voting begins Monday, Aug. 8. The polls are open from 7 a.m. to 7 p.m. on Tuesday, Aug. 23. Visit www.pbcelections.org for details on voting and locations in Palm Beach County.
Alcolya St. Juste —St. Juste is a third-generation Floridian from Palm Beach County. She graduated with a bachelor's degree in criminology from Florida State University and was at the top of her class when completing her law degree at Nova Southeastern University. St. Juste is currently the special magistrate for the City of Riviera Beach and a managing partner at St. Juste Gordon Law.
"I decided I wanted to be a lawyer in the sixth grade. At that time, and still today, my desire was to provide legal assistance to members of the community who often did not have access to legal representation," St. Juste said. "I wanted to be in the courtroom doing what I could to help clients through the legal process, advocating on their behalf and advising them along the way."
St. Juste noted that she has been endorsed by dozens of local elected officials, including Royal Palm Beach Mayor Fred Pinto and Wellington Councilman Michael Napoleone, who is also a past president of the Palm Beach County Bar Association. She said that her endorsements from past presidents of national, state and local bar associations speak to her dedication to the field of law.
"Running for judicial office is a natural extension of my passion for the law and the pursuit of justice. I am inspired by several jurists who came before me, who took the time to mentor and guide me on my legal journey. I want to serve as a bridge to the community to help build trust in the judiciary and our justice system," St. Juste said. "I have been vetted by the Judicial Nominating Commission, a rigorous and thorough process to determine one's capability and readiness to serve as judge. I am the only candidate in my race who has been selected as a finalist for consideration of merit judicial appointment to a circuit court position."
Having spent more than 18 years as an attorney, St. Juste has served as lead chair on more than 200 trials and heard more than 250 cases as a special magistrate. Her civil practice has worked extensively in juvenile dependency and family law, immigration and business law.
"Voters should select a candidate whose experience, leadership and integrity will be an asset to the Palm Beach County Circuit Court," St. Juste said. "My legal experience has afforded me the opportunity to serve as lead counsel in various hearings where I have zealously advocated on behalf of my clients, including the State of Florida and some of the most vulnerable in our community, our youth. I have served as an advocate for indigent clients — individuals in the community who are unable to afford the services of an attorney."
Through community service and volunteering, St. Juste has provided free legal services and taken the time to mentor young attorneys and help build capacity in the legal field as it becomes more diverse.
"This process has allowed me the opportunity to meet with voters from all over the county," she said. "I have enjoyed and appreciated the opportunity to speak with each and every one of them and to learn more about their concerns about the judiciary. My work history and dedication to the law and the community has prepared me to serve as Palm Beach County's next circuit court judge."
To learn more about St. Juste, visit www.votestjuste.com.
Caryn Siperstein — Siperstein has practiced law for nearly 20 years. She transitioned from a private practice after 10 years to work as a public servant, first as a state mediator at the Palm Beach County Courthouse. Siperstein graduated cum laude from Brandeis University, majoring in American studies, and completed her law degree at Brooklyn Law School. She currently serves as a Florida senior assistant attorney general in the Civil Litigation Bureau.
"My desire to become a judge began when I clerked for two judges, one in New York when I attended Brooklyn Law, and another after in New Jersey," Siperstein recalled. "I had an opportunity to see the inner workings of the courthouse and how justice was served. My interest to become a judge grew stronger as my career developed. I have worked to achieve a breadth of knowledge and experience to serve as a circuit court judge, and to hit the ground running in the various areas of law that a judge may be required to preside over. Notably, I served as a civil circuit court appointed arbitrator deciding cases in New Jersey in the very same subject matters that I would handle as an elected judge."
Volunteer work has also been important to her. Siperstein has been a member of the Education Committee for the City of Delray Beach since 2018. She serves as a coach for the Palm Beach County Federal Bar Association's civics education program and has judged the Palm Beach County high school mock trial competition. Siperstein has also mentored students for years as they progressed through high school, college and law school.
"It is important that our youth are given the opportunity to study the law so that they can be positive influences in our community and teach the next generation the importance of our legal system," she said. "I am honored that each has chosen to volunteer on the campaign committee."
Siperstein noted that she has also garnered support from a variety of prominent local groups.
"I am honored to be endorsed by the major groups in Palm Beach County, which include the Palm Beach County Police Benevolent Association, the Professional Firefighters/Paramedics of Palm Beach County Local 2928 IAFF, the Palm Beach-Treasure Coast AFL-CIO, the Fraternal Order of Police District 4, the Palm Beach County Human Rights Council, Women's Issues NOW (National Organization for Women) and the Hispanic Vote. These endorsements are important because they each illustrate their confidence in my experience and knowledge to best serve as a circuit judge, and they each represent large, diverse voter populations," Siperstein said.
Siperstein has extensive experience as a mediator, having handled more than 500 cases ranging from divorce and child custody issues to real estate and business contracts. In New Jersey, she served as an arbitrator in a quasi-judicial capacity as well.
"In 2015, while teaching law to high school students, I was selected from a pool of teachers to learn from the Florida Supreme Court justices at the Justice Teaching Institute," Siperstein said. "The fellowship included a training from each justice, who taught their personal research techniques and methods of case analysis. I was fortunate to have studied a live case that was before the Florida Supreme Court, listened to how each justice prepared for the hearing, listened to the live oral arguments, the justices' questions and ultimate ruling. This was a highly valuable experience to observe the case analysis and decision making of the Florida Supreme Court, and this fellowship uniquely assists me to serve as judge."
To learn more about Siperstein, visit www.caryn4judge.com.